Donors Needed for March 20th Red Cross Blood Drive at Stanbridge College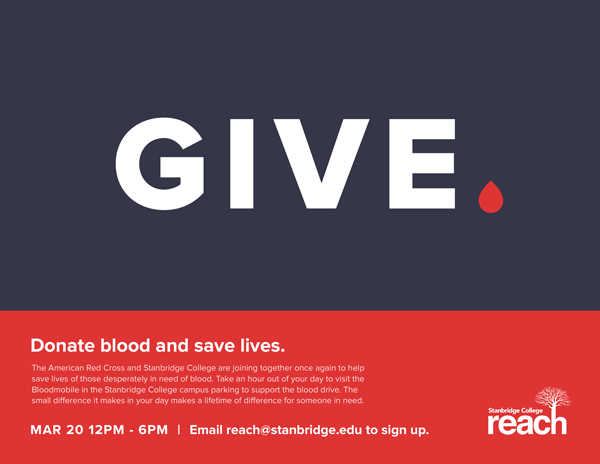 Stanbridge College is hosting its quarterly American Red Cross Blood Drive on March 20, 2014 from 12:00 p.m. to 6:00 p.m. Donors are needed to help those in need of blood transfusions.
A single donation of blood has the power to save 3 lives. It is something that most people can spare; yet there is still a shortage, especially in the O-negative and B-negative blood types. To help overcome this shortcoming, Red Cross needs your assistance to give someone hope and save a life.
Hospitals and trauma centers trust the Red Cross to deliver potentially lifesaving blood for accident victims, sick children, and cancer patients in need of transfusions. Again, we need your help – not just to stabilize our depleted blood supply – but also to immediately help patients in need.
Please help – schedule your blood donation appointment today.
Blood Drive Details:
Date: Thursday, March 20, 2014
Time: 12:00 p.m. – 6:00 p.m. – Appointments are scheduled every 20 minutes.
Location: Stanbridge College 2041 Parking Lot – Red Cross Bloodmobile
Registration: Email Samantha Mellinger at smellinger@stanbridge.edu with your name, email, phone, cohort, and requested time. (12:00pm, 12:20p, 12:40pm etc.)
Identification is required to donate. Please ensure you are eligible to donate blood before you make your appointment. To read about American Red Cross donor eligibility please visit: http://www.redcrossblood.org/donating-blood/eligibility-requirements.
Administration Desk Volunteers Needed!
Volunteer to help the Red Cross with registration tasks on the day of this event. We need 2 volunteers for two 3 hour shifts from 12:00pm – 3:00pm and 3:00pm to 6:00pm. Please email smellinger@stanbridge.edu for more information.
We can't do this alone, but together, we can stand ready. Thank you for your support and dedication to helping those in need.