Over 500lbs Canned Food Items Donated to the Hungry in OC from Stanbridge College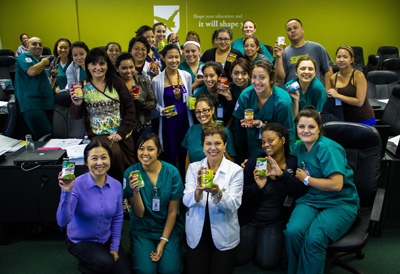 In June and April, students, staff and faculty of Stanbridge College gathered together and donated over 500 lbs of canned foods to the Second Harvest Food Bank of Orange County. Each month's week-long donation drive encouraged donations to help eliminate hunger in Orange County. In June, one of our newest cohorts, FTV donated over 150 cans to the donation drive. Stanbridge College would like to thank all of the students of FTV and all of the Stanbridge College community for helping support this cause.
According to Ms. Adeline Justeson, Vocational Nursing instructor, "The students in FTV have really embraced the dedication to community service that Stanbridge College encourages. I am so proud of their contribution to this food drive."
According to the Second Harvest Food Bank, it is currently estimated that 21% of Orange County or 615,000 individuals struggle with hunger in Orange County. 50% of those in need of food assistance are children or seniors. The Second Harvest Food Bank of OC works to provide food to the working poor, children, seniors on fixed incomes, single parents, the disabled, the homeless and individuals experiencing medical emergencies or recent job layoffs in Orange County. In partnership with over 470 member charities, the Food Bank helps feed more than 240,000 individuals each month.
Continue to REACH
Stanbridge College will host its next Canned Food Drive in August! To learn more about the Second Harvest Food Drive please visit http://feedoc.org
To learn more about Stanbridge College REACH community service activities and sign up for upcoming community service events please visit www.stanbridge.edu/reach.