Volunteer with OC Parks and Help Celebrate the Earth on Sunday April 14, 2013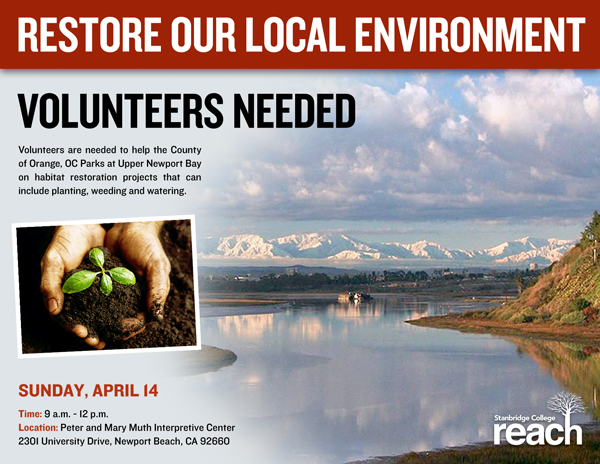 Earth Day is around the corner and Stanbridge College REACH – Beyond the Classroom™ is looking for volunteers to help the North Coastal Operations of the County of Orange, OC Parks at Upper Newport Bay with a monthly habitat restoration project on Sunday, April 14, 2013. 
Volunteers are needed to help habitat restoration projects that can include planting, weeding and watering. Join Preserve staff and other volunteers in enhancing the Bay's habitat for local wildlife.
Activities may include:
–       non-native plant removal
–       planting native flora
–       watering
–       trash cleanup
–       Butterfly Garden maintenance
No experience is necessary. Water, snacks and tools are provided by OC Parks.
Event Details:
Date: Sunday, April 14, 2013
Time: 9:00 a.m. – 12:00 p.m.
Location: Peter and Mary Muth Interpretive Center – 2301 University Drive, Newport Beach, CA 92660
Registration: Click here to register or email vsauer@stanbridge.edu – Please note upon registering you will receive an email asking you to complete your registration with OC Parks.
This is a great opportunity to celebrate the Earth and contribute to the health of the environment!
For more information on Stanbridge College REACH and community service activities in April, please visit www.stanbridge.edu.