Over 150 Christmas Toys Donated to Needy Children from Stanbridge College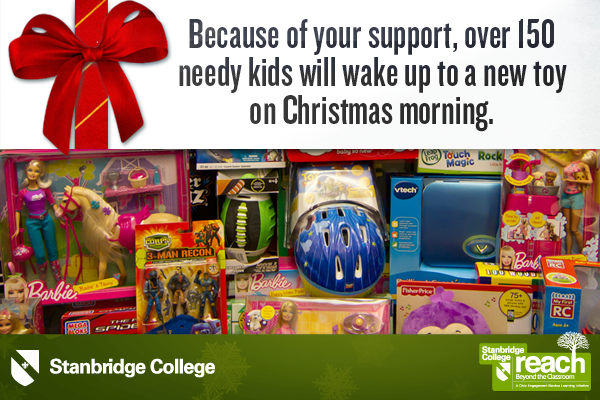 This year, over 150 children will wake up on Christmas morning to find a brand new toy waiting for them under the Christmas tree because of the support and donations from the Stanbridge College community. In our recent Children's Toy Drive, students, staff and faculty donated over 150 toys to the U. S. Marine Corps Reserve Toys for Tots Program. The toys will go to needy boys and girls in Orange County who may be homeless, living in motels or shelters or whose families may not be able to afford presents this year. Stanbridge College has hosted a Children's Toy Drive for Toys for Tots for the last two years. This year the drive collected more toys than the past two years combined.
According to the Marine Toys for Tots Foundation, "approximately 13 million American children live in poverty." To help improve these children's lives, the Marine Toys for Tots Foundation wanted to create and enhance self-esteem and deliver a message of hope. For their organization, this can only come in the form of a new toy.
The project is part of the Stanbridge College REACH – Beyond the Classroom™ Service Learning and Civic Engagement initiative. One of the major focuses of the initiative is helping the homeless and needy. In the past, Stanbridge REACH has worked with several non-profit partners including Project Hope School, Veterans First OC and the Free Pantry Organization to help low-income and homeless families and children.
Continue to REACH
Learn more about the Marine Toys for Tots Foundation at www.toysfortots.org.
Join Stanbridge College REACH in making a difference for our community! Visit us online and sign up for an upcoming event at www.stanbridge.edu/reach.