Stanbridge College Named 2012 ACCSC Community Service Award Finalist
Stanbridge College was named a 2012 ACCSC Community Service Award Finalist by the Accrediting Commission of Career Schools and Colleges. The award is designed to recognize ACCSC-accredited institutions that have made outstanding contributions to their local community through service initiatives. Stanbridge College was recognized for its REACH – Beyond the Classroom™ Service Learning and Civic Engagement initiative and its wide variety of community service partnerships in 2011 and 2012.
"ACCSC is very proud of the continuing efforts made by Stanbridge College to be a force of positive change in the Irvine, California metropolitan area. The dedication of staff, faculty, and students to make a difference in their local community is worthy of recognition," noted Christopher Lambert, ACCSC's Director of External Affairs.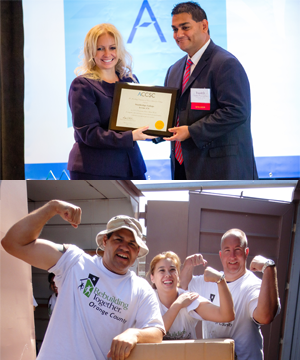 For the 2012 Community Service Award, ACCSC considered several compelling aspects such as the scope and impact of community service initiatives, the commitment of a school to its community, and a demonstration how the initiatives touched the personal lives of students and members of the community alike.
Stanbridge College REACH – Beyond the Classroom™ Service Learning and Civic Engagement initiative, Stanbridge College encourages its students, alumni, and staff to give back to both the Southern California and global communities. The Service Learning component of Stanbridge College REACH enables students to apply their knowledge and skills learned in the classroom to community service while earning credit in a structured learning environment.
Since January of 2011, Stanbridge College REACH hosted and participated in 32 fundraising, volunteering and service learning events. Staff, students and alumni provided over 3,467 man hours of community service, raised over $46,000 for global disaster relief and local charities and donated over 4,022 items to those in need in Orange County and around the world. These projects include packing care packages for US Marines overseas, serving a meal to over 250 homeless people monthly and assisting over 2500 people with medical services at free public health fairs.
Stanbridge College partnered with over 29 non-profit organizations to help distribute funds and donations including Second Harvest Food Bank Orange County, Lestonnac Free Clinic, Toys for Tots Marine Foundation, Veterans First Orange County, and Mariners Outreach. As part of its service learning program, Stanbridge College Allied Health students have worked with the County of Orange and the Orange County Medical Reserve Corp to help deliver medical services to the public.
Stanbridge College was recognized with the award from ACCSC at the 2012 Professional Development Conference hosted on September 10-12, 2012 in San Diego, California.
Continue to REACH
To learn more about Stanbridge College REACH outreach efforts and learn how you can help at the next upcoming event, please visit www.stanbridge.edu/reach or visit Stanbridge College on Facebook at www.facebook.com/stanbridgecollege.