Starting 6/11 Canned Food Drive Week to Help Eliminate Hunger in OC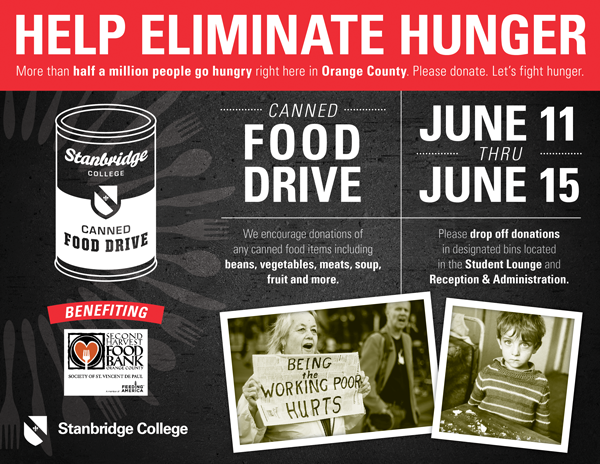 Stanbridge College REACH is excited to announce its June Canned Food Drive starting June 11!
In our last food drive in April, students and staff donated over 200 cans and other food items to help the Second Harvest Food Bank Orange County eliminate hunger in Orange County. But hunger doesn't stop for over half a million people in Orange County. This time, let's break our record and continue to support the hungry, homeless and needy.
Event Details:
If you are able to, we encourage donations of any canned food items including beans, vegetables, meats, soup, fruit and more.
Here are the event details:
Date: June 11th – June 15th
Location: Please drop off any donations in the bins located in the student lounge or Administration and Reception Suite 107.
More than half a million people go hungry in Orange County. Let's fight hunger together. Support our Orange County community and give back to those in need. To learn more about the Second Harvest Food Bank OC, please visit them online at http://feedoc.org.