Stanbridge Spotlight: Nursing Student Nominated for Senior Care Humanitarian Award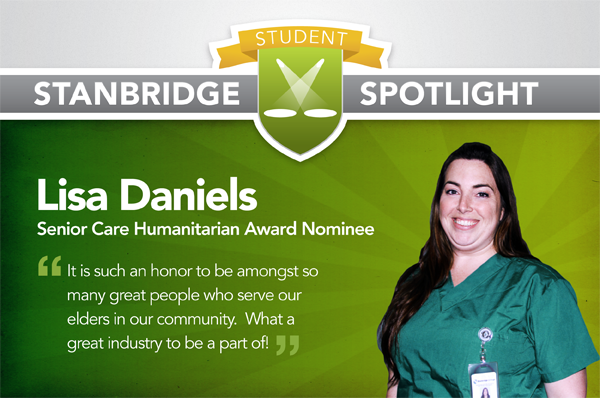 Stanbridge College Vocational Nursing student, Lisa Daniels loves what she does.
"I am a Social Worker/Case Manager at a skilled nursing facility in Costa Mesa.  I have the pleasure of working with seniors, their families and their physicians everyday, toward the same goal…great care," stated the term 1 nursing student.
Last fall, alongside fellow senior care professionals, Lisa was honored at the First Annual Senior Care Humanitarian Awards Ceremony for her work with the elderly. The ceremony, sponsored by Answers: Senior Care Solutions, recognized the humanitarian efforts of senior care nurses, caregivers, social workers, physicians and administrators in Orange County. Lisa was nominated by a home healthcare company for her social work in a skilled nursing facility.
"I do discharge planning, case management, care conferences, coordinating benefits and many other things that I hope change the life of each person for the better. I love what I do!"
The ceremony raised funds to benefit Community SeniorServ, a nonprofit social service agency that runs programs for senior citizens including Meals on Wheels, Senior Lunch program, Case Management and Adult Day Health Care centers.
"It is such an honor to be amongst so many great people who serve our elders in our community. What a great industry to be a part of!" said Lisa.
Currently Lisa is pursuing her Diploma in Vocational Nursing at Stanbridge College. She was inspired to enter the program in order to learn clinical skills to enhance her work in case management. In the future, Lisa hopes to continue her work as a Case Manager at skilled nursing facilities or acute hospitals.
According to Stanbridge College President, Yasith Weerasuryia, "Lisa Daniels is a wonderful example of professional leadership. Her kindness towards seniors and efforts to go beyond what is expected of her are clearly shown in this nomination. We are very pleased that her skills are recognized within her field."