Here Comes Santa Clause! Stanbridge College Donates Toys to Toys for Tots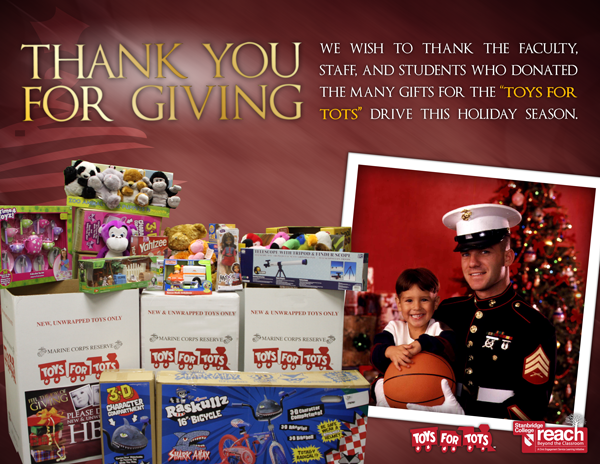 Stanbridge College recently partnered with the Marine Toys for Tots Foundation for a Christmas Toy Drive. Students, staff and faculty donated toys, games, stuffed animals and more to local Orange County children in need.
Stanbridge College would like to thank everyone who donated toys to Toys for Tots. Because of your support, hundreds of boys and girls in Orange County will be able to wake up on Christmas morning to unwrap a new bicycle, tea set, telescope, teddy bear, Zhu Zhu Pets and a whole lot of Christmas cheer.
According to Karen Myhra, Stanbridge College staff member, "Toys for Tots is a wonderful program. I donated this year because I wanted the opportunity to show my children how to pay it forward to those in need. They helped me pick out our donations and understood that by donating to Toys for Tots they are sharing Christmas spirit with other children who are less fortunate."
Stanbridge College is a consistent supporter of the US Military, honoring its students, staff and faculty who served and are currently serving. Last fall, Stanbridge College worked with Veterans First to help homeless veterans in the 1st Annual Orange County Stand Down shelter and medical services camp. In November, Stanbridge College REACH worked to support US Marines by partnering with Words of Comfort, Hope and Promise to send Christmas Care Packages to over 100 Marines currently serving overseas in Afghanistan and other areas.
The Christmas Toy Drive for Toys for Tots is part of Stanbridge College's REACH Beyond the Classroom Service Learning initiative. REACH encourages students to give back to their local and global communities while learning important leadership skills within civic engagement.

Continue to REACH – Toys for Tots
Toys for Tots began in 1947, when Major Bill Hendricks, USCR and a group of Marine Reservists in Los Angeles collected and distributed 5,000 toys to needy children. The primary goal of Toys for Tots is to deliver, through a new toy at Christmas, a message of hope to less fortunate youngsters that will assist them in becoming responsible, productive, patriotic citizens. To learn more and donate to the Toys for Tots Foundation please click here to visit www.toysfortots.org.
To learn more about Stanbridge College's REACH visit the Stanbridge College at www.stanbridge.edu.