Stanbridge College Hosts Allied Health Career Fair on December 8th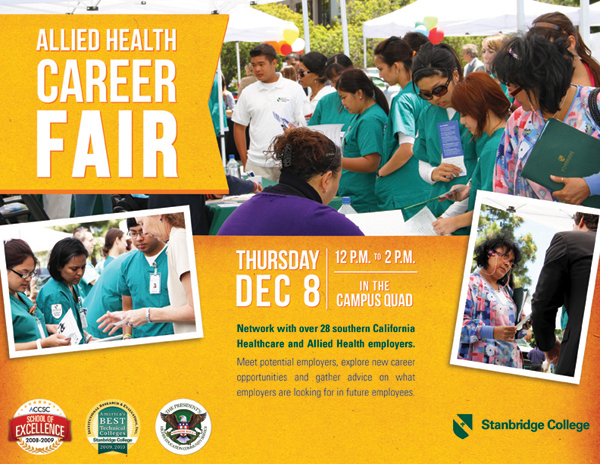 Stanbridge College is pleased to announce its Allied Health Career Fair on Thursday, December 8, 2011. Stanbridge College's Vocational Nursing and Occupational Therapy Assistance students and alumni will be able to network with over 28 southern California Allied Health employers. Students will be able to meet potential employers, explore new career opportunities and gather advice on what employers are looking for in future employees.
Career Fair details:
Date: Thursday, December 8, 2011
Time: 12:00pm – 2:00pm
Location: Stanbridge College
Prepare for the Fair!
To help students and alumni prepare for the Career Fair, here are few tips from Stanbridge College Career Services:
•    Prepare multiple copies of your resume to hand out.
•    Dress as you would for an interview. Make sure you look your best to impress any potential future employer.
•    Network with all of the potential employers, not just the ones you are interested in. You never know which opportunity might be the best for you.
•    Collect contact information from the representatives of each company and be sure to follow up by sending a Thank You message after the fair.
•    Be prepared to share with employers why you have chosen your career path. They want to know why you're passionate about your career.
•    Ask questions: Career Fairs are excellent opportunities for you to learn what is important to employers when they decide to hire.
Continue to Network
Are you a Stanbridge College graduate looking to network online? Join the Stanbridge College Alumni Groups on LinkedIn:

Vocational Nursing Alumni Group
Information Technology Alumni Group
For more information on Stanbridge College Career Services call 714-949-9090 or visit www.stanbridge.edu.