US Marines Receive Christmas Cheer from Stanbridge College Secret Santas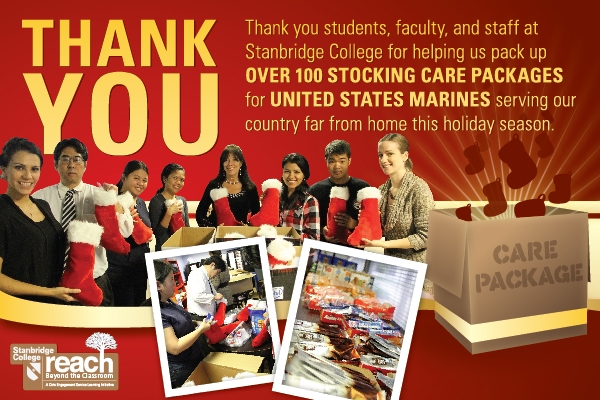 Stanbridge College recently shipped out 100 Christmas stocking care packages to US Marines currently serving overseas in Afghanistan and other areas. Students, staff and faculty from the Orange County based technical college, donated items including Christmas cards, food snacks and men's socks and packed the donations in festive Christmas stockings.
Carlo Castaneda, Stanbridge College Occupational Therapy Assistance student and Navy Corpsman stated, "I am excited to be volunteering to support the Marines. As a former Navy Corpsman, I know what they experience. It is not easy. It is very stressful. So I am glad that we can give back to the men and women who are serving overseas during the holidays."
Stanbridge College partnered with Words of Comfort, Hope and Promise, a non-profit military outreach dedicated to supporting American troops and their families, to send the care packages to the 1st ANGLICO Unit Family Christmas Party, the deployed 5th Marines Headquarters Battalion Family Christmas Party and several other Battalion Family Christmas Parties throughout the month of December.
All Stanbridge College students, staff and faculty are encouraged to participate in community service events through the REACH – Beyond the Classroom Service Learning initiative. REACH provides students with opportunities to give back to their Orange County and global community while earning credit towards coursework in a structured environment.
Stanbridge College will continue to support the US Marines as they partner with Toys for Tots and launch a Christmas Toy Drive on November 28th and ending December 9th benefiting children in need in the OC community.
Continue to REACH
Stanbridge College encourages everyone to learn more and continue to donate to Words of Comfort, Hope and Promise by visiting www.comforthopeandpromise.org.
To learn more about Stanbridge College's REACH and the upcoming Toys for Tots Christmas Toy Drive, visit the Stanbridge College at www.stanbridge.edu.