Announcing Christmas Toy Drive with Toys for Tots 11/28 – 12/9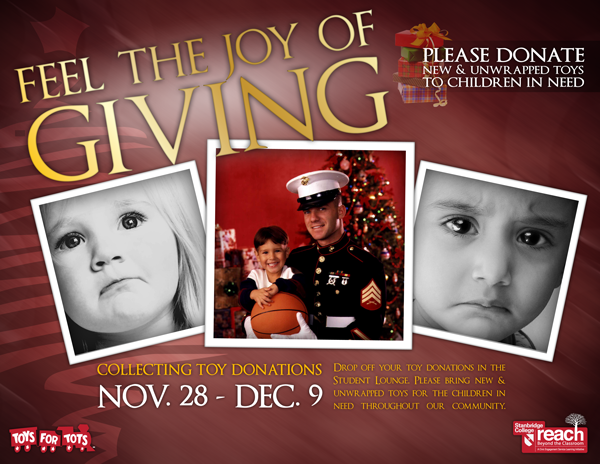 In our efforts to spread Christmas cheer, Stanbridge College REACH is once again partnering with Toys for Tots to host a Christmas Toy Drive for children in need in our Orange County community.
To children, Christmas is a special time of year when they wish that Santa will have the perfect toy waiting for them under their Christmas tree. Not all children, however, are lucky to have this wish come true.
If you are able to, please bring a new and unwrapped toy to the Stanbridge College Student Lounge. The drive will take place on November 28th to December 9th.
Date: November 28th-December 9th
Location: Drop off new and unwrapped toy donations in the Student Lounge
As the holiday season rapidly approaches, Stanbridge College is asking you to please pause and remember the boys and girls in need of extra Christmas hope this year.
Continue to REACH – Toys for Tots
Toys for Tots began in 1947, when Major Bill Hendricks, USMCR and a group of Marine Reservists in Los Angeles collected and distributed 5,000 toys to needy children. The primary goal of Toys for Tots is to deliver, through a new toy at Christmas, a message of hope to less fortunate youngsters that will assist them in becoming responsible, productive, patriotic citizens. To learn more and donate to the Toys for Tots Foundation please click here to visit www.toysfortots.org.