Faculty Spotlight: Kandace Husted, VN Program Assistant Director and Recent MSN Program Graduate
Stanbridge University's Faculty Spotlights showcase stories of dedication, inspiration, achievement, and growth. This week, we're getting to know Kandace Husted, Assistant Director of the Vocational Nursing (LVN) program at the Orange County campus, and a recent graduate from Stanbridge's Master of Science in Nursing program.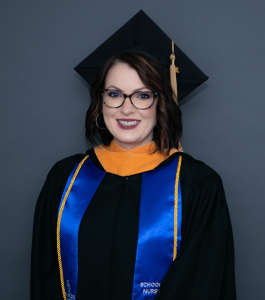 Tell me a little bit about yourself, what is your background and education?  
My interest in both nursing and education started at a very young age. As a kid, I walked around my house with my Fisher-Price medical kit and sweet-tart candies distributing medical care to my family. When I wasn't "fixing" a family member, I was teaching my kid brother all the new things I learned in school. I remember setting up my "classroom" and using my schoolwork to teach him math and even the basics of how to read and write.  
After graduating from high school, I enrolled full-time in college classes to begin my nursing career, all while working full-time as well. I have a background in Cardiology/Telemetry and Critical Care Nursing, so the more complex the patient, the better. I have a passion for patient care and healing those who are sick, which drives my work focus today. Regarding education, I recently graduated with my Master of Science in Nursing with an emphasis in Nursing Education from Stanbridge University. 
What made you want to pursue this area of study?
Nursing education is the perfect blend of my two passions, nursing and learning. What better way to change the trajectory of nursing than through the next generation of nurses? I want to make a difference in nursing, elevate the field, and help to produce the best.   
How did you come to Stanbridge and what's your role here?
I was working with and training new hires and nursing students on my unit in the hospital and loved watching the new nurses grow. I searched for local nursing schools to see what it would take to become a clinical instructor. I came upon the LVN program at Stanbridge, and the rest is history! I am now the Assistant Director for the Vocational Nursing program at Stanbridge University's Orange County campus. 
What drew you to Stanbridge University's VN program?
Stanbridge is known in the community not only for producing the best clinicians, but also for supporting its students. This school offers some of the best student support services available, and students have access to amazing technology. I wanted to be a part of that.
What drew you to enroll in Stanbridge's Master of Science in Nursing (MSN) program?
The program checked all of my boxes when looking to pursue higher education. I was very familiar with the learning platform, and the courses within the program were exactly what I was looking for. The curriculum promised a well-rounded education that would provide me with the knowledge and tools that I desired. 
How is Stanbridge University's new associate degree in vocational nursing benefiting its students?
I cannot say enough about the Associate of Occupational Science in Vocational Nursing (AOSVN) program! Our students will not only become more well-rounded nurses but more equipped to handle the current demands in healthcare. The associate degree VN program provides the students with a solid foundation in vocational nursing, including active learning of clinical judgment throughout the curriculum to prepare students for the Next Gen NCLEX. The scaffolding effect of the curriculum will help to develop the critical thinking skills needed in nursing today.
What do you hope your nursing students take away from your classes?
Knowledge. The ah-ha moment is what I strive for. I want my students to walk away from the classes that I teach with the ability to provide expert patient care, save lives, and understand why we do what we do. 
What do you like to do for fun when you're not teaching?
I love spending time with my family and friends, reading a good book, and cooking! 
To learn more about Stanbridge University's nursing programs in Orange County, Los Angeles, and Riverside, please visit the LVN Program and BSN Program for more information.