Stanbridge Alumni Spotlight: Physical Therapist Assistant Graduate – Andy Fang
Stanbridge University showcases Alumni True Stories to shine a light on our passionate graduates making a difference in the community. Meet Andy Fang, a Physical Therapist Assistant alumnus currently working for a therapy agency as a travel PTA.
Where are you working and what is your current role?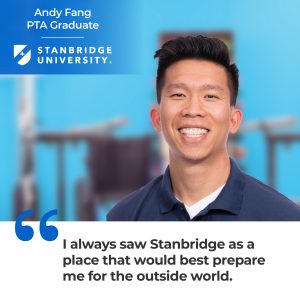 I currently work at a therapy agency as a travel PTA, where I travel to different sites that need my help. Right now, I'm working at Terrace of Los Gatos in Los Gatos, CA, and The Ridge up in Milpitas, CA. My role is to follow the Plan of Care which involves gait training, therapeutic exercising, therapeutic activities, and neuromuscular reeducation. In simpler terms: I assess how patients can get out of bed and how they stand up to start walking. From there, I figure out what adjustments I can suggest to improve their transfers and which exercises I can ask them to do to improve their strength to make their daily lives much more manageable. I ask patients or family members what kind of environment they live in (1-story? 2-story homes? Apartments?) to see if it's accessible for them or if they need additional assistance. I previously worked at Fountain Valley Regional Hospital and multiple home health agencies, in which my role was very similar.
Walk us through a typical day for you as a Physical Therapist Assistant.
I start my day reviewing notes from the previous therapist to see what lab results have come in and how much time they have for hemodialysis so I can coordinate time for treatment. Then I check in with my patients to see if there's any new pain. I always try to make the patient perform more than they did the previous day. If they walked 25 feet one day, I'd aim for 50 feet the next. That's my mindset as I go through my day. At my current facility, I've seen up to 11 patients per day.
What are the things that you love about working as a travel PTA? 
I love the freedom and that I'm not required to stick to a rigid schedule. I love how I can come in to a hospital or SNF at 7 am or 10 am, and start when I want to. If I want to go surfing, running, or take my time with my breakfast in the mornings, I don't have to rush. If I want to take a Friday off, I can work Sunday through Thursday. For home health, I love that I am my own boss. I can also work as much or as little as I want, which keeps me in this business.
Why did you choose Stanbridge University's PTA program?
Like many other students, I googled "PTA schools in California" and started applying for multiple schools. It was a really tough decision, but what ultimately made me choose Stanbridge was the rigorous program, which to some, may scare them away. I always saw Stanbridge as a place that would best prepare me for the outside world. I wanted to be overprepared for the outside world rather than underprepared.
How do you feel Stanbridge prepared you for what you are doing now? 
Stanbridge has overprepared me by challenging us to learn so much more than other schools. The PTA program at Stanbridge is not what you would usually expect for an associate degree, but at the end of the day, I was glad I was challenged through sleepless nights to prepare me.
How was your experience with using the labs and technology at Stanbridge? 
The Virtual Reality Lab and the variety of technology available to us was fun. It's better to have real-life scenarios than make-believe ones. SynDaver Lab was great because we got to see the whole musculoskeletal aspect of where muscles run and what their functions are. Many of my classmates and I are visual learners, so it was very helpful.
Any favorite Stanbridge memories, classes, or instructors? 
My favorite memories would have to be friendly foosball games with a couple of our other classmates. Eating lunch as a whole cohort. All the instructors were so fun to learn from. Master D, Eberhardt, Manning, Pennington, Andy B. But my favorite would have to be Master D.
What advice do you have for someone considering applying to Stanbridge University?
Be prepared for hard work and making sacrifices in your social life. Learning and studying start on Day 1. Getting a head start and managing my time well got me through the program. You may not grasp concepts the first time, but it'll all click if you keep practicing.
What is your biggest goal right now?
My biggest goal right now is to find a job where I have the freedom to find a good work/life balance and where I'm paid to do something I love.
To view more inspirational stories, visit Alumni True Stories.
If you or someone you know is interested in becoming a Physical Therapist Assistant, visit the Stanbridge University PTA Program for more information.

Stanbridge Grads – we want to hear from you!
Email media@stanbridge.edu to share your story!