PHYSICAL THERAPIST ASSISTANT: RESEARCHING THE BEST SCHOOLS
Physical Therapist Assistant is a career path that not only offers job security but provides an opportunity for growth that only continues to expand. In California alone, job demand for Physical Therapist Assistants, or PTAs, is expected to grow an astonishing 28.8% between 2018-2028.1
While the job market for PTAs has always been positive, there has been a drastic increase in demand for skilled graduates from top physical therapy assistant schools.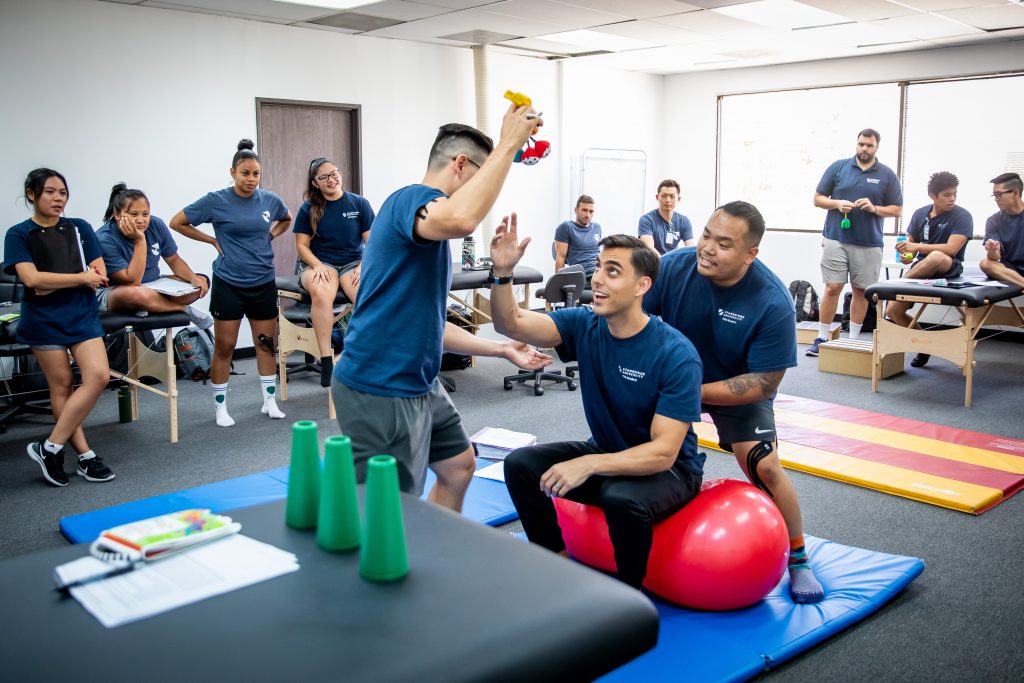 PTAs have an in-demand, stable, hands-on career with high job satisfaction. Why are these healthcare workers so happy with their career choice? It's not just the wide range of job opportunities available to them, but the high wages as well. In California, starting salary for a PTA averages $32 an hour with an associate degree in physical therapist assistant.1
What does a Physical Therapist Assistant do?
Physical therapy itself is a crucial steppingstone in a recovery process to improve functional mobility after physical injury or disease, helping people's health and wellbeing through exercise routines, manual treatment, mobility training, and pain/symptom control. Physical Therapist Assistants support those recovering from physical injury or disease through a series of therapeutic exercises, manual therapy, therapeutic modalities as well as health and movement education. A PTA works under the supervision of a Physical Therapist (PT), observing, treating, and helping patients through their treatment plans. As opposed to PTs, PTAs have more one-on-one time and connection with patients, less paperwork, and have the ability to directly impact their patients' progress from start to finish.
Is there an increased demand for Physical Therapist Assistants?
The current pandemic has increased demand for qualified physical therapy professionals more than ever before, as the growing baby boomer and elderly population need more physical therapy rehabilitation from illness and postponed elective surgeries from Physical Therapist Assistants.
How to Find the Best Physical Therapist Assistant Schools
Look for learning institutions with hands-on training and immersive labs that will provide you with the best education and experience possible to begin a successful PTA career.
Stanbridge University stands out from the rest. As a healthcare university, it is an essential learning center, which is why students have been able to continue vital in-person lab and clinical training since May 2020. Stanbridge University offers over 700 hours of hands-on PTA lab training for practical job-related skills. In 10 spacious and safe labs on campus, PTA students work with exercise equipment, adaptive equipment, mobility devices, positioning devices, and physical agent modalities.
Technology
Not only are students on campus for essential labs, but Stanbridge University has implemented top-of-the-line innovative technologies to enhance the student experience even further.
At Stanbridge University, students have access to a Virtual Reality Lab where they can use augmented and VR technology, allowing for multi-sensory learning via virtual models of human anatomy and biology in 3D. Stanbridge also has the West Coast's first Cadaver Lab with SynDaver Synthetic Cadavers for in-depth and hands-on anatomy training.
Reputation
Another important factor to consider when researching the best physical therapy assistant schools is reputation. Stanbridge PTA students have an excellent reputation in the physical therapy community, which why their graduates have 100% employment rate within 6 months of graduation.2 
If you have been searching for the best physical therapy assistant school or are considering a career as a Physical Therapist Assistant, Stanbridge University has the program you are looking for. Realize your professional dreams at www.stanbridge.edu/pta.
1 Source: Employment Development Department, State of California. Occupational Profile, Physical Therapist Assistants. https://www.labormarketinfo.edd.ca.gov/cgi/databrowsing/occExplorerQSDetails.asp?searchCriteria=physical+therapist+assistant&careerID=&menuChoice=occexplorer&geogArea=0601000000&soccode=312021&search=Explore+Occupation. As viewed on January 17, 2023.
2 Source: CAPTE Annual Accreditation Report (AAR) 2019. Employment Licensure Information, Employment Rate, Dec 1, 2018 to Dec 1, 2019. As viewed on October 15, 2020.