BSN Student Jessica Villa Geiger Named 2022 Newman Civic Fellow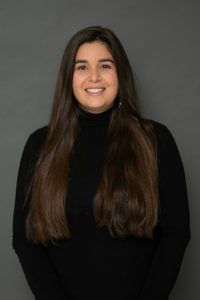 Stanbridge University is honored to announce that student Jessica Villa Geiger has been named a 2022 Newman Civic Fellow by Campus Compact. A national coalition of colleges and universities working to advance the public purposes of higher education, Campus Compact has named 173 student civic leaders to make up the 2022-2023 cohort. Ms. Geiger will join students from 38 states, Washington, D.C., and Mexico.
The Newman Civic Fellowship recognizes students who stand out for their commitment to creating positive change in communities locally and around the world. The fellowship is named for the late Frank Newman, one of Campus Compact's founders, who was a tireless advocate for civic engagement in higher education. In the spirit of Dr. Newman's leadership, fellows are nominated by Campus Compact member presidents and chancellors, who are invited to select one outstanding student from their campus each year.
Ms. Geiger, a Bachelor of Science in Nursing student nominated by Stanbridge University President Yasith Weerasuriya, demonstrates a commitment to creating positive change through her exemplary service with the school's community outREACH program and on her own time. With an emphasis on environmental rehabilitation, she has led Stanbridge University volunteer efforts in habitat restoration, urban reforestation, and ocean plastic removal. In addition to her outREACH volunteer efforts, Ms. Geiger regularly serves at Mission San Juan Sierra's food pantry, distributing food to low-income families in South Orange County.
"Ms. Geiger truly embodies what the outREACH program and community commitment are all about," stated Weerasuriya. "Her leadership at multiple Stanbridge volunteer events and genuine passion for change sets a positive example for the entire Stanbridge community and beyond. We are pleased to see Ms. Geiger recognized for her efforts and are excited to see her join this network of student leaders."
Through the fellowship, Campus Compact will provide these students with a year of learning and networking opportunities that emphasize personal, professional, and civic growth. Each year, fellows participate in numerous virtual training and networking opportunities to help provide them with the skills and connections they need to create large-scale positive change. The cornerstone of the fellowship is the Annual Convening of Fellows, which offers intensive skill-building and networking over the course of two days. The fellowship also provides fellows with pathways to apply for exclusive scholarship and post-graduate opportunities.
"We are proud to name such an outstanding and diverse group of students Newman Civic Fellows," said Campus Compact President Bobbie Laur. "Their passion and resolve to take action on the wide range of issues challenging our neighborhoods and communities is inspiring and deeply needed. We cannot wait to engage with them through this transformative experience."
The Newman Civic Fellowship program is supported by the KPMG Foundation. You can read more about each of the student leaders selected for this year's cohort here.
Interested in starting a Bachelor of Science in Nursing (BSN) program?
If you or someone you know is interested in working towards a Bachelor of Science in Nursing, visit the Stanbridge University BSN Program for more information.