Stanbridge Alumni Spotlight: Vocational Nursing Graduate – Jaclyn Ramirez
Stanbridge University presents Alumni True Stories to spotlight our incredible graduates and their post-Stanbridge journeys. Get to know Jaclyn Ramirez, a Vocational Nursing alumna putting her skills to work in dermatology.  
Where are you working and what is your current role? 
I currently work at a dermatological clinic with a MOHS surgeon. MOHS is a tissue-sparing process where we take as little tissue as possible to treat different types of skin cancers. This process is usually done on the face, scalp, or ears, but it can be performed elsewhere depending on the size and mobility of the skin.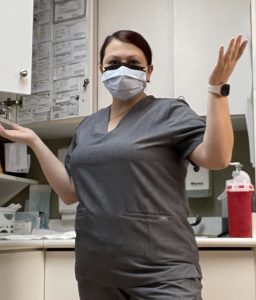 Walk us through a typical day for you at your job.
My typical day starts with setting up all rooms for the physician. I set up each surgical pack that we use for the day with a sterile technique. I stock the rooms with gauze, Hibiclens, bandages, sutures, and extra Lidocaine in case the physician needs more. Once the patient comes in, I room them and ensure that the consent form is signed. I mark the correct location we will be treating and confirm the site with photos taken during the biopsy.
The surgeon will then come in and greet the patient, answer any other questions the patient may have, and ensure that the site is marked correctly. He starts by using a local anesthetic to ensure that the patient is comfortable and does not feel any pain. He then uses a curette to better understand the margin around the site he needs to take, as the cancerous tissue has a gelatin-like texture compared to normal skin.
While he is taking the margins with a scalpel, I assist by controlling bleeding and keeping the site as dry as possible. Once that's done, the surgeon cauterizes the area to stop any bleeding, and I place a temporary bandage until we get results that the site is clear. Once the site is cleared, the surgeon will let it granulate, at which point I bandage the area with a pressure bandage and go over wound care with the patient. If the surgeon puts sutures, I assist with closure. Once the site is closed and sutures are in place, I cleanse the area, place a pressure bandage, and go over wound care.
What are the things that you love about working as a vocational nurse?
I get to know patients better, and I get to have one-on-one care and conversations with the patients and help ease their minds and anxiety about the procedure they are about to have. 
Have you had a recent patient experience that you felt confident about?
Every day I have different experiences and feel confident about 95% of the time. For the other 5%, I always ask for guidance. It's better to ask than to be incorrect or do something wrong.
Why did you choose Stanbridge University's VN program?
I had a few friends who attended Stanbridge, which was one of my deciding factors as I heard amazing things. I knew that I would be well-prepared for the NCLEX and future positions that I may hold.
How do you feel Stanbridge has prepared you for what you are doing now?
The education I received instilled therapeutic communication skills that I lacked before. I feel as though I can assess situations from different aspects. The Simulation Lab was quite the experience. Even though it was computer-operated, I thought it presented scenarios we could face in the real world.
Any favorite Stanbridge memories, classes, or instructors?
Some of my favorite classes were cardiac. I find it fascinating that the heart is the strongest muscle in the body and is such a vital organ for living. My favorite instructors included Ms. Amelia, who I had for my third term clinical at Huntington Beach Hospital. She taught me so much and helped me understand the "why" behind what we were learning. Another instructor that I really appreciated was Ms. Kim. She taught our maternal newborn class, and I felt she really went above and beyond and used real-life situations to help us understand the material. She would make sure that we understood what she was teaching before moving on. She really took it to the next level. 
What advice do you have for someone considering applying to Stanbridge?
Make sure you have a great support system. If I did not have my husband, who supported me 100% and took care of our three children while I was going to school, I would not have been able to make it this far and graduate. Additionally, time management is key!
What is your biggest goal right now?
My goal is to pass my NCLEX and find a position where I can make a difference in someone's life, even if it's small. 
Anything else you'd like to share?

Nursing school is a roller coaster for sure. You will meet some of the most amazing people while attending and make best friends along the way. Going to nursing school at the beginning and height of the pandemic has been up and down, but I would not change it for any other experience. 
To view more inspirational stories, visit Alumni True Stories.
If you or someone you know is interested in becoming a Vocational Nurse, visit the Stanbridge University Vocational Nursing program for more information.

Stanbridge Grads – we want to hear from you!
Email media@stanbridge.edu to share your story!