Faculty Spotlight: Dr. Emilee Young and Clinical Study on Human Blood Plasma Products Treatment for Alzheimer's
Stanbridge University is highlighting Faculty Stories to spotlight personal stories of dedication, inspiration, and achievement. This week we are getting to know Dr. Emilee Young, Stanbridge University Vocational Nursing instructor, who is currently involved in a clinical study researching human blood plasma products treatment for individuals with Alzheimer's disease.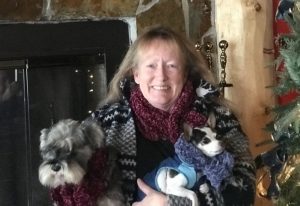 Tell me a little bit about yourself, what is your background and education?

I have worked in healthcare my entire career, starting very young out of high school into college. In my early 20s, I became a registered nurse and then received a bachelor's degree. I received my master's in business administration and doctoral degree in organizational development from Pepperdine University. Both degrees required extensive statistical analysis and research skills.
The entire time I was a student, I had a family and a job. That is one of the key areas where I relate to the part-time vocational nursing students at Stanbridge University, and I remember how rough that was. I've held several executive positions in large organizations, and I've gotten into clinical research because it benefits many individuals in different areas.
How did you come to Stanbridge and what's your role here?
I have been with the university for 14 years, teaching part-time in the LVN program. I've had the opportunity to teach theory and clinical in different terms. I also taught in Stanbridge's first BSN cohort that graduated. I collaborated on the curriculum for the bachelor of science in nursing program, which includes creating the guidelines for projects, quizzes, tests, and weekly studies.
What drew you to Stanbridge University's nursing programs?
I came to Stanbridge because I felt that they were so far ahead of other LVN schools in Orange County, with their curriculum, technology, philosophies, and all the infrastructure and support that they have for students. As I looked at all those things, I concluded that Stanbridge is a cut above on every measure. And I still like it as much as I did 14 years ago. It's a very unique and wonderful position to be in, to be able to train and mold students to be outstanding clinicians. They are our future.
What are the clinical studies that you've been conducting?

I've researched solutions and new treatments for multiple sclerosis, Lou Gehrig's disease, rheumatoid arthritis, cancer, and childhood diabetes. Most recently, I've been looking at possible treatments for Alzheimer's and dementia. In the past couple of years, I had the opportunity to interface with a large East Coast university research team on COVID studies to help develop monoclonal antibody treatments. Being able to experience how some of the most brilliant scientific minds in our world work and how they figure out solutions was extraordinary. They worked as a team and shared data from scientists and researchers worldwide. It was a worldwide effort and quite a significant operation with all the elements of epidemiology.
What clinical study are you currently working on?
We all have immune globulin floating around in our blood to keep us healthy and protect us from diseases. I'm currently with a study looking at human blood plasma products treatment. Donated blood is processed and filtered, and extraction of immune globulin occurs. It is a critical lifesaving process for people who have immune disorders. Many people walk around with immune disorders, and you'd never know. Some of them are born with these disorders, and some develop as people get older.
As part of administering human blood plasma products over the years to different clients, other disease states have benefited from this therapy, such as Alzheimer's and memory loss dementia. The studies look at how we might use human blood plasma products to treat individuals with Alzheimer's. We're noticing that it is most effective at the beginning and moderate stages of Alzheimer's and dementia.
How do you hope human blood plasma products treatment will impact those in need?
I hope that we can find solutions for people suffering from memory loss and Alzheimer's because it's affected so many people worldwide. And solutions for other diseases that plague humanity worldwide like diabetes, kidney disease, and congenital disorders that affect children. As an individual, it's very fulfilling and exciting to think that I can make contributions that could impact many generations of lives after me.
How do you hope that this will inspire nursing students and new nurses in the field?
RNs and LVNs can seek employment in research and development opportunities, and they can also be a subject volunteer if the opportunity arises. I find that students and new nurses are attracted to being subject volunteers if someone in their family is affected by a disorder. They want to do something to contribute to the effort, to improve the lives of their relatives and other people who have those disorders.
What made you want to pursue this area of study?

I enjoy science. I enjoy the reliability and the predictability, the replication of science. I also really enjoy the discovery and the learning of new things. It's like you're looking for the pot of gold at the end of the rainbow. The pursuit of that is a challenge, and it challenges your brain and your thinking. It's thrilling to make progress—even just a little step at a time. You're doing something for today, but it's also for tomorrow. And when I think about making contributions like that, I think about what legacy I want to leave behind. What do I want to be known for? What do I want my grandchildren and great-grandchildren to say about their grandmother? I think leaving a legacy of contributing to the betterment of health for humanity is pretty darn cool.
What do you like to do for fun when you aren't teaching or researching?
I have a ski lodge at Lake Arrowhead, and I drive up there whenever I have a day off or two. There are some really nice hiking trails, and I like to take my dogs out and hike. I have a large family, and with nine siblings, I have tons of nieces and nephews. It's fun to get a group up there and just frolic in nature for a weekend.
To learn more about Stanbridge University nursing programs, please visit the LVN Program and BSN Program for more information.