Stanbridge University Introduces Revolutionary Technology in New Robotics and Intelligent Sciences Lab
With a long-standing history of using innovative technology for its students, Stanbridge University, located in California, has opened a Robotics and Intelligent Sciences Lab. The lab will allow students to learn and research new types of robotic based treatments to help patients, using technologies that are not yet widely available in the United States, giving students a leg up when starting their careers.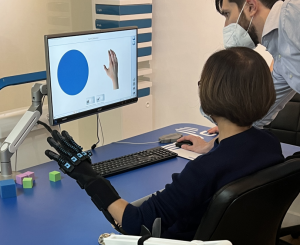 The first part of the lab, rehabilitation robotics, is geared towards rehabilitation of the lower and upper limbs and joints with advanced technology first observed at the Medica International Convention in Dusseldorf, Germany just before the pandemic. The technology from countries such as Israel, France, Italy, Luxembourg, the United Kingdom and the United States is emerging to deliver better rehabilitation outcomes amidst a sea of change in federal regulation on reimbursements for therapy services that the Centers for Medicare and Medicaid Services implemented in 2019 and 2020 called PDPM/PDGM. Medicare reimbursements for therapy services changed dramatically in October of 2019, with the number of minutes that can be reimbursed being reduced, yet outcomes needing to be maintained," Weerasuriya said. 
"These technologies have proven to rehabilitate patients with better outcomes in similar time frames to traditional treatments as well as accelerating treatment timelines," said Yasith Weerasuriya, President and CEO of Stanbridge University. 
"For example, if a therapist is helping you do an exercise right, at some point, the therapists' hand gets tired, but with a robotic device, you can repeat treatment hundreds of times safely and precisely; that has a very predictable outcome when it comes to the recovery process."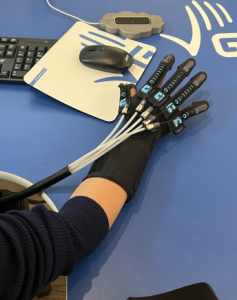 Stanbridge University is the first institution on the West Coast and only the second in the United States to obtain Sinfonia; an advanced robotic device for hand rehabilitation developed by the Italian firm Gloreha Indrogenet. Gloreha Sinfonia is a rehabilitation glove that supports joint motion in the fingers while detecting voluntary active motion and is designed to help patients recover functional movements. Multisensory stimulation in the glove and 3D animation on the screen keep patients motivated during their motor exercises, which help them perform grasping, reaching, and picking exercises while interacting with real objects. Sinfonia can be used to treat patients who have suffered from a stroke, traumatic brain injury, Multiple Sclerosis and Parkinson's Disease amongst others. 
Gloreha Sinfonia's second U.S. installation is in Pennsylvania at the University of Pittsburgh in the Department of Physical Medicine and Rehabilitation where it is being used to support research on emerging therapies aimed at increasing neural plasticity in stroke and spinal cord injured patients. Gianluca Guizzetti, a Gloreha Indrogenet representative said, "We're truly honored to embark on this exciting journey with Stanbridge University." After consolidating its presence in Europe and Asia, Indrogenet has recently undertaken the challenging and ambitious project of approaching the American rehabilitation environment. "We're glad this partnership represents our first step on the U.S. West Coast and we're sure Stanbridge will soon become a reference point not only in the national robotic rehabilitation network, but for the whole Gloreha international community as well," said Guizzetti. 
"Another rehabilitation robotic system we acquired is from an organization in Israel called MediTouch," Weerasuriya said. Their ArmTutor device allows for isolated functional exercise practice of the elbow, shoulder, and a combination of both. The device provides detailed exercise instructions and precise feedback on the patient's exercise performance and improvement.  
"It went into high demand during the pandemic because the company developed MediTutor TeleRehab software allowing physical and occupational therapists to connect to their patients online, through webcams, enabling regular check-ins as well as customized and guided exercise sessions. MediTouch comes at a relatively more affordable price point that makes its commercialization in the wider market much more possible."  
Stanbridge is integrating the use of these new robotic technologies into the curriculum in the graduate occupational therapy, undergraduate occupational therapy assistant and physical therapist assistant programs. 
"Our faculty will be trained in the technology in early spring, and the curriculum committees will conclude integration in early summer. Our graduate students will start to conduct research using these robots in the fall and present their results at regional and national conferences next year," Weerasuriya said.  
Even though these technologies are revolutionizing patient care, the health care field isn't seeing wide use of them yet in the United States due to COVID-19.   
"Some of these products have gotten a strong foothold in Europe and Asia. The Europeans have a lead when it comes to the development of rehabilitation robotics technology and when it comes to the use of social robots for the treatment of children on the autism spectrum. In the United States, it's not as widespread in clinical use, but is beginning to be implemented at universities for research and clinical treatment," Weerasuriya said. "I think the challenge has been the price points for these devices, especially with pandemic- related hits, that the therapy world may not necessarily see as an attractive option for just a little while longer." 
"I am thrilled to be involved in another advancement in therapeutic modalities at Stanbridge University. Working with Gloreha has been fascinating," stated Rebecca de Ruyter, Assistant Director of the PTA Program. "I look forward to teaching our students new and exciting ways to implement physical therapy techniques that not only challenge the physical body for hand function, but also activate the brain to apply the current research on neuroplasticity. The integration of technology with the traditional therapies of ROM draws in the focus and motivation of the patient battling very challenging diagnoses. The potential for change is exponential with Gloreha." 
Stanbridge University is also beginning another phase of development in the robotics lab with the addition of exoskeletons from Ekso Bionics, a bay area company, and Wandercraft in Paris, France. 
Robotic exoskeletons can help clinicians get patients out of wheelchairs, walking with a cane or crutches, and back to a more normalized posture during gait training. Ekso is an FDA-cleared exoskeleton for treatment of acquired brain injury, or ABI, stroke and spinal cord injury (SCI). Ekso Bionics helps physical therapists, physiatrists and doctors to clinically rehabilitate patients, allowing them to regain mobility. It is an excellent tool to help patients progress, get them back on their feet earlier and walking unassisted, if possible. 
The exoskeleton from Ekso Bionics is called a quadruped because of the use of the arms and crutches. Stanbridge is also working with Wandercraft, the makers of Atalante, a self-balanced exoskeleton designed to emulate human walking through 12 actuated degrees and cutting-edge dynamic walk algorithms. Atalante is a biped device that allows the patient to fully stand on two feet, without the support of crutches, along with calibration from a therapist. Both units are expected at Stanbridge in the fall of 2022.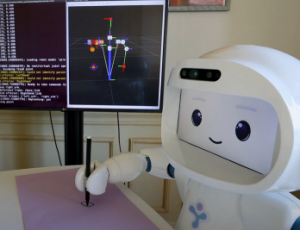 In addition to the rehabilitation robotics technology, Stanbridge is also introducing robots that help patients on the autism spectrum work on social skills and other therapies. One expressive humanoid social robot from Luxembourg is called the QTrobot, an easy-to-use assistive tool for increasing children's engagement and provides progress monitoring through its automated session reporting and insights dashboard. QTrobot is also a powerful platform for human-AI research and teaching. It is used by top research institutes around the world for STEM education, elderly care and healthy aging. 
Stanbridge's second social robot, Moxie, is a next- generation AI robot developed in California that complements traditional therapy and supports social-emotional development in kids through play. Moxie can perceive, process and respond to natural conversation, eye contact, facial expressions and other behavior as well as recognize and recall people, places and things to create a unique and personalized learning experience for children. Moxie robot enables a child to engage with physical touch and eye contact in a way virtual characters cannot, providing a major advantage in learning skills, especially in the areas of social and emotional development according to Embodied the maker of Moxie.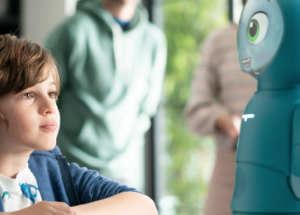 "QTrobot and Moxie are both at Stanbridge right now as we speak. Our technical support staff and faculty are currently undergoing training on how to use these robots, with curriculum integration scheduled in the coming months," Weerasuriya said.  
"We are excited to see the research projects our students will conduct with these social robots. Currently, the two social robots have limited use with older patients, and I know our students' upcoming research projects could contribute greatly adding to the body of knowledge with that population," Hamilton said. "Young adults and older patients on the spectrum could get assistance with daily social interactions, how to react in certain situations or how to respond to others facial cues. This will be especially useful to young adults on the spectrum enrolled at Life College which has a long partnership with Stanbridge University."  
Stanbridge University plans on having graduate students in its Master of Science in Occupational Therapy degree program conduct a number of research projects this fall. 
"We will have approximately 16 groups of students for a total of 64 who can choose any area of robotics in the lab that they want to specialize in and start researching; we hope they will be chosen to present their research at regional and national conferences in 2023." 
 Weerasuriya said the robots are expected to be integrated into a faculty practice clinic where students will be able to treat patients under the tutelage of the faculty in the late summer of 2022. 
Learn more about Stanbridge University's Master of Science in Occupational Therapy program, Occupational Therapy Assistant program, or Physical Therapist Assistant program.
Taken from the Innovation in Career Education edition of the publication Career Education Review, Winter 2022. Read the full article.