Scholarship Stories: Vocational Nursing Student Lisa McManus
Stanbridge University proudly presents Scholarship Stories to showcase our hardworking students and encourage others to apply. Join us in congratulating Orange County Vocational Nursing student Lisa McManus, our 2021 Nursing Scholarship recipient.
Why do you want to be a nurse?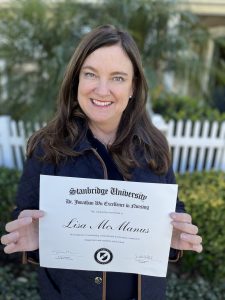 I have wanted to be a nurse for as long as I can remember. When I was in kindergarten, I drew a picture of a nurse stating that was what I wanted to be when I grew up. In high school, I was a candy striper, and I did an art therapy work-study in college at Cedars Sinai Medical Center in pediatric oncology. After graduating from LMU, I got married. I went to nursing school twice, but God had other plans. I had four beautiful children. They were, and are, my biggest blessing and priority. Now that they're old enough, it is time to complete my lifelong goal of becoming a nurse. It's never too late to fulfill your dreams.
What advice do you have for others wanting to apply for nursing scholarships? 
Just do it. You will never regret doing something positive, but you may regret not doing it. 
When you aren't studying, what do you like to do for fun? 
I love spending time with family and friends, traveling, and reading books for fun. Hoping I'll get to do these again after graduation! 
What is your best study tip? 
Set aside time each day, utilize the peer tutors, form study groups, and do many review questions. I have study questions on my phone, and I answer some whenever I'm waiting in line. Even if I'm wrong, the rationales help me learn new material, and I hope it helps me prepare for the NCLEX. 
What are you planning to do once you graduate Stanbridge? 
There are so many options in nursing right now. I love clinicals in the ED with Ms. Kim. I have worked in labor and delivery, and I am interested in hospice care to help others and care for them as they navigate this life transition. I also have an interest in management and teaching. 
Interested in applying for a nursing scholarship?
Stanbridge University has many scholarship opportunities available for students, including opportunities for other programs. Scholarship types include:
Institutional (All Programs)
ATI (Nursing)
Jonathan Wu Excellence in Nursing (Nursing)
Degrees of Skill (OTA)
For more details on how to apply, please email outreach@stanbridge.edu.