Stanbridge Student Spotlight: Physical Therapist Assistant Student Jordan Richmond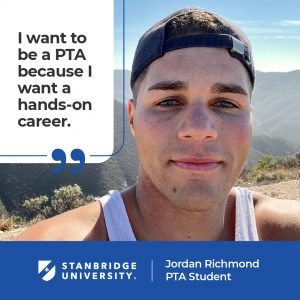 Stanbridge University is highlighting Student Stories to spotlight personal stories of dedication, inspiration, and academic achievement. This week we are getting to know Jordan Richmond, a Stanbridge University PTA student who decided he wanted to become a physical therapist assistant after playing college football at Stanford University.
Why do you want to be a Physical Therapist Assistant? 
I want to be a PTA because I want a hands-on career that allows me to take advantage of all the things I learned as a college football player.
How has being an athlete prepared you for a career as a PTA?
Being an athlete has helped me as a PTA student in many ways. I've learned how to develop time management skills, stress management skills, and the ability to accept feedback and implement it moving forward.
What are you most excited for in Stanbridge's PTA program?
I am most excited for the opportunity to pursue another degree without the added stress of being a student athlete.
Where do you ultimately want to work?
My ultimate goal is to open a physical therapy or psychotherapy clinic with my girlfriend in Santa Barbara, CA.
What do you like to do for fun?
I like to do yoga, cook, snowboard, and backpack.
Best study tip for fellow or prospective PTA students?
Try and make it fun! I listen to jazz music, stand as much as I can, and study with someone who can hold me accountable.
Interested in becoming a physical therapist assistant?
If you or someone you know is interested in becoming a Physical Therapist Assistant, visit the Stanbridge University PTA Program for more information.
Stanbridge Students – we want to hear from you!
Email media@stanbridge.edu to share your story!