HOW TO START AN OTA PROGRAM IN 2021: COMMONLY ASKED QUESTIONS ANSWERED
If you've been considering a career as an OTA, or occupational therapy assistant, this year is the perfect time to realize your goal. From career satisfaction to job stability, the OTA field is better than ever, with projections estimating it'll stay that way for years to come.
Do you want to know more about becoming an OTA in 2021, and where to get started? Here are some of the most commonly asked questions regarding OTA programming:
What is Occupational Therapy?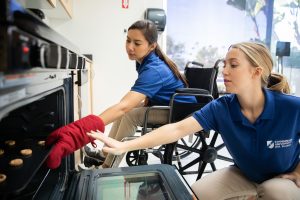 Occupational Therapy is a holistic mode of care and rehabilitation enabling Occupational Therapists and OccupationalTherapy Assistants (OTA) to help their clients with activities of daily living to help maximize their independence. Occupational Therapy can use creative treatments based on what the client loves to do to help them maximize their well-being and independence both physically and psychosocially. Tasks such as getting dressed, cleaning, cooking, painting, surfing, gardening, or going to the store can be used in treatment plans.

What does OTA stand for?
OTA stands for Occupational Therapy Assistant. One of the more in-demand healthcare jobs in America today, Stanbridge University offers a comprehensive Occupational Therapy Assistant program to help get you started on this exciting new career path.
What does an OTA do in occupational therapy?
An OTA will work directly with an occupational therapist, under their supervision. Job responsibilities can include contributing to the patient evaluation process, carrying out treatment plans, and assisting with other therapeutic duties.
Who does an OTA help?

OTAs work closely with clients of all ages, from children to the elderly. For example, they work with children with developmental disabilities such as autism, and fragile X, helping them promote coordination and socialization. OTAs can also work with adults and the elderly for a variety of medical conditions including stroke, traumatic injuries, respiratory diseases, mental illness, and Alzheimer's disease. OTAs also support clients who have completed a surgery or who are recovering from an illness in hospitals to help them relearn or restore their ability to do basic tasks essential for everyday life or to compensate for lost capabilities.
What does an OT do that an OTA cannot?
Both OTs and OTAs provide therapy to patients. However, an OTA cannot independently evaluate patients or innate treatment without an OT. OTA's carry out the treatment prescribed by an OT. OTAs have more one-on-one time and connection with clients, less paperwork, and have the ability to directly impact their clients' progress from start to finish.
Is an occupational therapy assistant a good career?
It is! With more job openings than other occupations, and a much higher median salary scale, the OTA career path is steady and satisfactory.
Are occupational therapy assistant jobs in demand?
They are. According to the California Employment Development Department, overall employment of occupational therapy assistants and aides is projected to grow 42.3 percent from 2018 to 2028, much faster than the average for all occupations.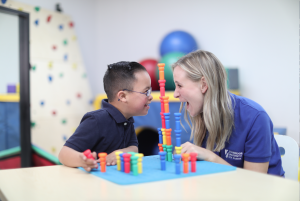 Why is becoming an occupational therapy assistant a good career choice?
Unlike other industries, healthcare jobs are growing. With more demand than there are applicants, choosing a career within healthcare like occupational therapy assistant will open many doors for you in terms of employment opportunities and steady income.
How much money do occupational therapy assistants make?
According to the U.S. Bureau of Labor Statistics, the median pay for an OTA is $61,510 per year, well above the national average.
Where can you work as an occupational therapy assistant?
As an OTA, you'll have many options for where to work. From nationwide job availability to office-type, you can find the perfect fit. Typically, an OTA will work in nursing care facilities, rehabilitation centers, outpatient and community clinics, home care services, hospitals, and school systems.
How do you become an occupational therapy assistant?
To become an OTA, you must complete OTA education and training. The first step would be finding the right program for you. To learn more about the OTA Program at Stanbridge University, visit www.stanbridge.edu/program/ota
What school offers the best OTA program?
With a 91% OTA pass rate, 5-year average 2015-2019, Stanbridge University's OTA program is one of the best. Brought to life with real-world therapy equipment, expert faculty, and technology, you'll achieve mastery over the techniques and core concepts needed to pass the NBCOT-COTA exam and thrive in a modern OT career.
What does obtaining a degree to become an Occupational Therapy Assistant entail?
In the Occupational Therapy Assistant program, you will learn the foundational skills to help people with physical or mental limitations live fuller, more meaningful, and more independent lives. Work hands-on in real-world environments with industry/s latest technology and equipment as you discover an exciting, rewarding career.
Is Stanbridge University's OTA Program Accredited?
The Occupational Therapy Assistant program is accredited by the Accreditation Council for Occupational Therapy Education (ACOTE) of the American Occupational Therapy Association (AOTA) through 2028/2029 in Orange County and Los Angeles. AOTA is located at 6116 Executive Boulevard, Suite 200 North Bethesda, MD 20852-4929. ACOTE's telephone number, c/o AOTA is (301) 652-AOTA and its web address is www.acoteonline.org.
How do you apply to Stanbridge University's OTA Program?
Stanbridge University accepts applications for admission to their diploma and degree programs on an open enrollment basis. To apply, schedule a virtual meeting with the Admissions Department and visit the Stanbridge University Portal to access the application form online at portal.stanbridge.edu.
Can you go to school part-time to become an OTA?
Stanbridge University's Occupational Therapy Assistant program's full-time schedule is offered at the Orange County and Los Angeles campuses. The part-time schedule may not be available for some years at either campus.
How long does it take to become an OTA?
OTAs can complete an associate's degree in 23-24 months or estimated two years. Master's degree programs for Occupational Therapists degree programs require a bachelor's degree to apply and take an estimated two years to complete their degree programs.
What do students do in the OTA program?
Students in the Stanbridge University's OTA program learn essential skills in over 10 on-campus labs providing unparalleled hands-on learning in real-life scenarios. Students also have access to virtual reality learning via cutting edge labs, giving students the opportunity to immerse themselves and learn with the help of over 1,000 3D holographic models. Intimate, small classroom environments allow students to have access to critical training and guidance throughout every step of the learning process.
Does the OTA program bridge to the Master of Science in Occupational Therapy program?
Stanbridge University offers an online Bachelor of Science in Healthcare Program and a Master's in Occupational Therapy degree program – a pathway many OTA graduates take if they want the option to elevate their career.
Is financial aid available for OTA programs?
Cost shouldn't prohibit you from achieving your career goals. The Financial Aid team at Stanbridge University is happy to help you. You can meet with a Financial Aid Officer and receive individual, one-on-one guidance. To learn more about the Stanbridge University Admissions and Financial Aid process today, visit our website or call our FA Help Desk at 833-924-1628!
Discover more about one of the best OTA Programs in California! Check out Stanbridge University's Occupational Therapy Assistant program here.