Stanbridge University Increases Virtual Reality Offerings with Addition of World's First Virtual Dissection Table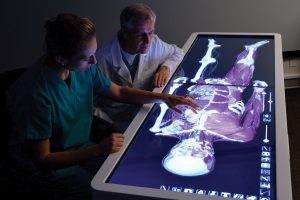 Stanbridge University is pleased to announce the addition of the the most technologically advanced anatomy visualization system in the world to its Virtual Reality Lab. Stanbridge students can now utilize this rare and innovative tool used by the top hospitals and medical facilities.
The Anatomage Table is the only fully segmented real human 3D anatomy technology system. Users can visualize anatomy exactly as they would on a fresh cadaver. Individual structures are reconstructed in accurate 3D, resulting in an unprecedented level of real accurate anatomy, dissectible in 3D. The Table allows for exploration and learning of human anatomy beyond what any cadaver could offer.
"Stanbridge University has an impressive high tech virtual reality center, which makes them unique in their dedication to integrate medical technology into all of their programs," Anatomage Senior Scientific Advisor Jenny Liu stated. "With the addition of the Anatomage Table, they raise the bar for other institutions to upgrade their facilities. At Anatomage, we look forward to working with Stanbridge closely to develop a truly state-of-the-art program for the healthcare education community."
"Stanbridge has a history of commitment to innovation and technology.  We have long been committed to offering our students industry-leading technologies; and, as the times change and evolve, so do we," Stanbridge President Yasith Weerasuriya stated. "We are pleased to add to our substantial Virtual Reality educational assets and now offer our students 'Anatomage,' the world's first virtual dissection table. Anatomage will provide a greater understanding of both human and animal anatomy, laying a strong foundation for the future careers of our students."
Schools that utilize the Anatomage Table are showing higher test scores, more efficient class and lab sessions, and student acceptance, according to Anatomage. The Table allows students to interact with young and well-preserved digital cadavers instead of decaying physical bodies. The accuracy is unmatched and keeps students' interest and attention better than previous teaching tech, leading to more effective educational outcomes.
This addition expands Stanbridge's resources for innovation and technology in the classroom with hands-on training and the largest digital database for actual cadaver scans and information. The Vocational Nursing, OTA, MSOT, ADN, PTA and Veterinary Technology programs are able to use this to virtually dissect actual human cadaver scans and a variety of animal cadaver scans.
Stanbridge University already offers students of its Nursing and Allied Health degree programs access to several technologically advanced skills labs on campus. The Nursing Simulation Lab, Synthetic Cadaver Lab, Synthetic Canine Cadaver Lab, Advanced Driving Simulator Lab and Electronic Medical Record stations also enable students to master industry-relevant skills and critical healthcare technology. The Anatomage Table is yet another welcomed educational and technologically advanced tool available for all students.
To learn more about Stanbridge University's nursing and allied health programs, please visit www.stanbridge.edu.