Stanbridge College Students, Faculty and Staff Raise $3,972.01 for Nepal Earthquake Relief
Two devastating earthquakes struck Nepal on April 25th and May 12th, leaving over 8,000 people dead and flattening more than 500,000 homes across the country. Answering the global call to action, Stanbridge College students, faculty and staff took the initiative to raise $3,972.01 on behalf of two charities, Shelterbox, and Steps of Hope Outreach, to benefit the victims of the devastation. Led by students in the Stanbridge Student Occupational Therapy Association (SSOTA) and Physical Therapist Assistant (PTA) programs, students hosted several fund-raising activities, including bake sales and prize raffles.
On June 15th, SSOTA and PTA students, along with President of the college Mr. Yasith Weerasuriya, presented a check for $3,352.01 to Mr. Bharat Tamang, a representative of Steps of Hope Outreach.  Mr. Tamang, an attorney who is originally from Nepal, is the husband of Julie Tamang, Director of Steps of Hope Outreach. "Many houses in Nepal are destroyed or irreparably damaged," Mr. Tamang said, "And the generous donation from Stanbridge College will help many families tremendously."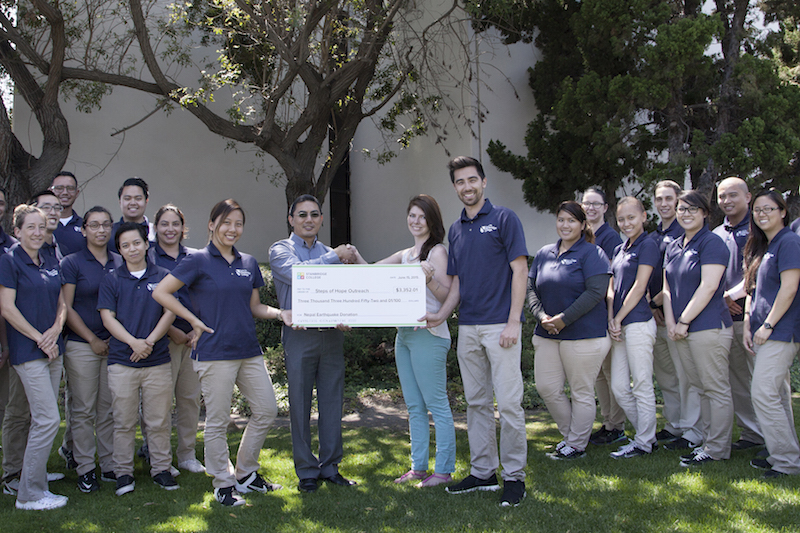 Shelterbox is an international relief organization that provides emergency shelter and aid to communities around the world affected by disaster and crisis. Since its inception, Shelterbox has provided emergency aid for well over one million people in times of crisis. In Nepal, families who have completely lost their homes will be provided with tents. Those in urban areas will be given shelter kits containing tarpaulins, rope and building tools. The kits can erect temporary shelters and assist in the repair of damaged homes.
Steps of Hope Outreach is a nonprofit organization dedicated to improving living conditions for children at orphanages in Haiti, Mexico, and Nepal. Steps of Hope Outreach is operated solely by unpaid volunteers, with 100% of all donations benefitting the children. The organization works in conjunction with Mercy Children Ministry and Grace Orphan Home to offer at-risk children a safe home where they are cared for. Many of the children are orphans, having been rescued from child labor and prostitution.
Global aid and support is one of the many initiatives Stanbridge College takes in its community service. In 2012, students, staff, and faculty raised $1,250 to support Doctors Without Border's efforts for the victims of famine, drought, and political issues in Somalia. In 2013 the Stanbridge community raised $10,196 to support Operation HOPE in bringing aid to those affected by Typhoon Haiyan in the Phillipines.
Deepest thanks to the Stanbridge College community, especially the PTA and SSOTA students, for your commitment to service, leadership and contribution to those in need.
Continue to REACH
To learn more about continuing aid to Nepal and how to help, please visit http://www.stepsofhope.org and http://www.shelterboxusa.org/
For more information on Stanbridge College REACH, please visit www.stanbridge.edu/reach and learn how you can get involved in your community!