Stanbridge College Hosts President's Reception to Welcome Back Alumni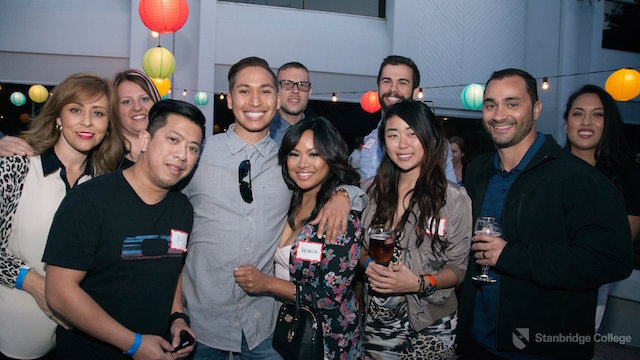 On a cool June evening, under the glow of colorful paper lanterns, Stanbridge College alumni gathered for a night of fun – seeing classmates, enjoying tacos, and simply being back at the school that has meant so much to them. As guests arrived, exclamations of joy could be heard amongst various groups, as these busy professionals found time to catch up with friends they've missed since leaving Stanbridge.
For several alums, including recent Physical Therapist Assistant graduate and Therapy Advisory Board member Joey Ahearn, it was their first time at a President's Reception. "I love the decorations, love the food!" he enthused. "It's nice to network and see old professors, old students, and students I've been tutoring. It's really cool to see everybody here." Chatting over tacos, instructors offered students congratulations on new jobs and exciting opportunities. "It's fun to reconnect with former students," said OTA Program Director Satch Purcell. "I get to find out what they're doing, I get to ask if they're living the dream yet. It's nice to find out where they are, what they're doing, and what kind of clients they're working with."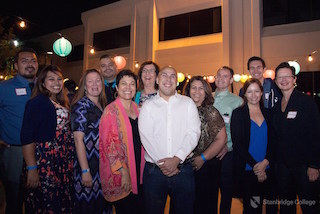 President of the college, Mr. Yasith Weerasuriya, warmly welcomed everyone in attendance, speaking briefly about the Stanbridge College Alumni Association, and opportunities to tutor current students, encouraging alumni to "be a motivating force" for those who will come after them. He introduced Kris Kline, Vocational Nursing Cohort FTX Valedictorian, who spoke passionately of her experience tutoring. "It's a pleasure to help students overcome some of their insecurities and initial struggles." Ms. Kline said. "When we can build them up and show them 'Hey! You can do this!' it gives them courage and impetus to go forward. It's awesome. It's a wonderful experience."
After speaking about recent innovations on the Stanbridge campus, including the world's first high-fidelity canine patient simulator, Mr. Weerasuriya announced exciting news of the upcoming partnership between Fordham University and Stanbridge College, during which Occupational Therapy students will assist with research for a project benefitting the manned mission to Mars.
Alumni had a blast taking part in a series of games including trivia and icebreakers, which rewarded those "in the know" with a chance to spin the prize wheel and take home some cool Stanbridge spirit gear. As the speakers blasted hits from Motown to Top 40, many hit the dance floor, happy to show off their moves, and end the week on a joyful note. With the evening winding down, alumni savored their last bites of dessert and collected parting gifts– small reminders of the place that is proud to count such accomplished individuals as part of its community.
For more information, please visit www.stanbridge.edu or call (949) 794-9090.