Volunteers Needed – Sunday 5/18 – Israel Expo OC with Stanbridge College REACH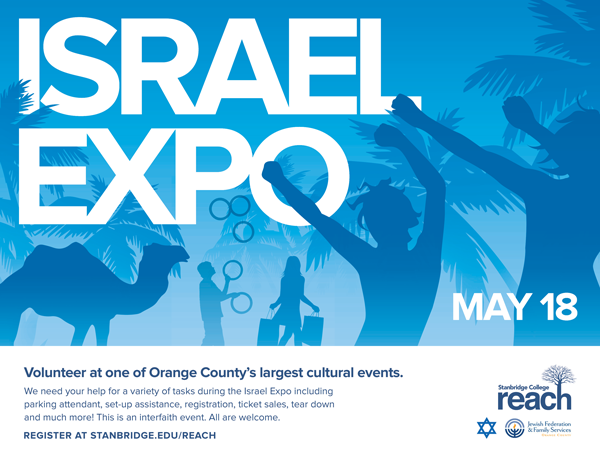 Stanbridge College REACH – Beyond the Classroom™ invites you to volunteer at the Israel Expo OC, a unique community celebration of Israel on Sunday, May 18th in Irvine. Israel Expo is OC's largest community celebration of Israel, drawing over 10,000 people of all faiths and backgrounds to experience Israeli culture, history and values.
Volunteers are needed for a variety of tasks during the Israel Expo including:
–       Parking attendant
–       Set-up assistance
–       Registration
–       Ticket sales
–       Tear down
Event Details:
Date: Sunday, May 18, 2014
Time: Shifts vary depending on task, 2hr shifts – can work multiple shifts
Location: Samueli Jewish Campus – 1 Federation Way, Irvine CA 92603
Additional information will be distributed to volunteers upon registration.
To learn more about the Israel Expo please visit www.israelexpo.org.
We hope that you will take advantage of this unique volunteer opportunity and get involved in our community!