Keep Up The Compassion And Volunteer To Help Feed The Homeless With Stanbridge College REACH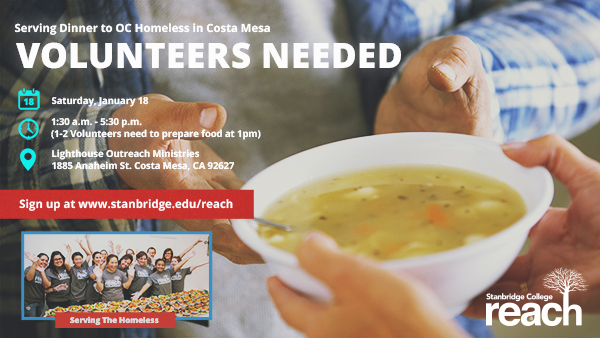 Stanbridge College REACH – Beyond the Classroom invites you to volunteer to help the homeless on January 18th in Costa Mesa.
Did you know that volunteer activity increases during the holiday season, but decreases after December? This is why supporting our community's homeless population is important year-round. Keep up the compassion in 2014 and join us this month to give hope to the Orange County homeless community:
Prepare and Serve a Warm Meal to the Homeless
Help prepare and serve a warm meal to over 250 homeless and low-income people and families in Costa Mesa.
Date: Saturday, January 18, 2014
Time: 1:30 p.m. – 5:30 p.m.
Location: 1885 Anaheim Avenue, Costa Mesa, CA
Registration: Click here to register online
Now is your chance to truly make a difference for those in need for our community.