Stanbridge College Spotlight: PTA Program Director, Elizabeth Peyton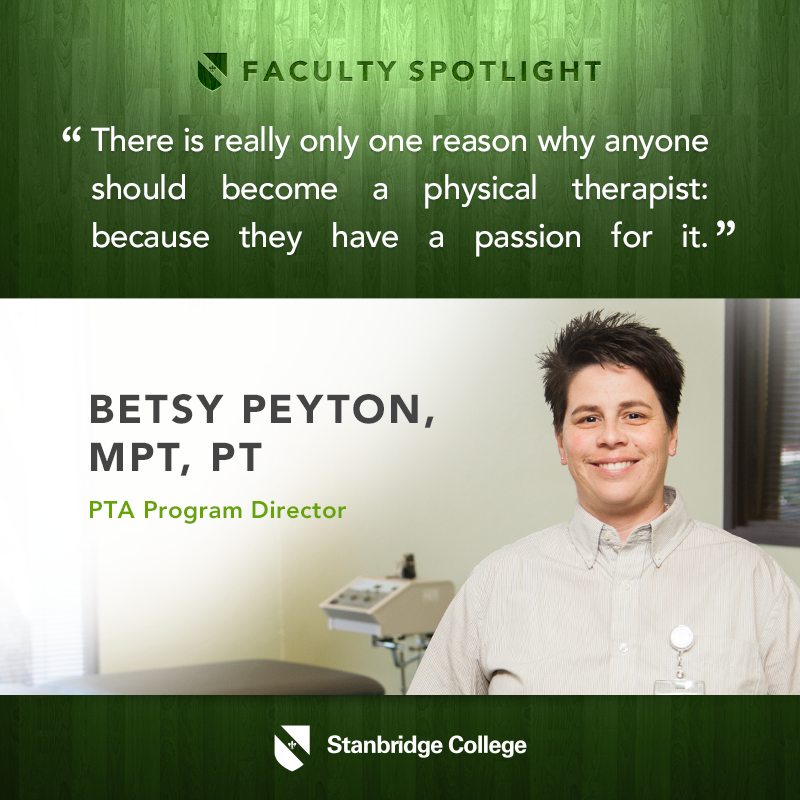 In honor of PT Month, Stanbridge College spotlights Physical Therapist Assistant Program Director, Elizabeth Peyton. In her interview, Ms. Peyton talks about her passion for physical therapy and how seeing the students grasp physical therapy concepts is a rewarding, daily inspiration.
Stanbridge College: In your words, what is physical therapy?
Elizabeth Peyton: In its most simplistic form, physical therapy is the art and science of restoring normal movement in the human body.  The science comes in the form of examination, assessment, and evaluation of a particular physical impairment or dysfunction and determining what physical therapy interventions are needed to restore an individual to their previous functional level.  The art of physical therapy lies in the understanding that the physical, emotional, and spiritual aspect of a human being is interrelated.  Therefore, sensitivity, compassion, and respect must be balanced with hard work and pain in order for a person to meet their personal goals.
SC: What was your inspiration for becoming a physical therapist(PT)?
EP: My inspiration for becoming a physical therapist was due to many factors but I would have say that I was compelled to enter the profession after my sisters were involved in a car accident.  I always knew I was drawn to the medical profession.  I did some observation hours which involved working with an orthopedic surgeon and I realized that they did not get to spend much time with the patients.  I wanted to spend time with people.
SC: What was your experience like training to become a PT?
EP: It was rigorous. The first day of Anatomy and Physiology I thought I had gotten in over my head but then I realized that if I just took one day at a time, I could get through that day.  Days turned into months, months turned into years.  When I graduated I felt an amazing sense of accomplishment but more than that, I realized that I had more than a degree- I had an education.  Never before did I appreciate the process of learning as much as I did on that day.
SC: Did you specialize in any particular area of PT in your education or practice?
EP: I am a generalist practitioner and have worked in many different kinds of physical therapy settings.  I tell my students that I am a jack-of-all-trades and a master of none. However, we have the experts here on campus to teach those subjects; so together, as a faculty, we are strong and knowledgeable and able to cover the depth and breadth of any topic.  Our faculty are great therapists, great people, and dedicated to student success.
SC: Do you have a special moment you remember when you were training or practicing PT?
EP: There are many special moments, too many to pinpoint as "one".  Patients come back to you much like students go back to visit teachers.  That always kinds of chokes me up because you realize that you were such a positive force in this person's life.  Then again, sometimes you get the handshake and a thank you from the least likely people- like your most difficult patient.  That is always a goose bump kind of moment.
SC: What is one of your favorite aspects of PT?
EP: Helping people get their lives back is of course awesome in itself, but also being part of a profession that is filled with really amazing people is great. Physical therapy is a healing profession and it is our job to restore their wellbeing- that makes PT even better.
SC: Why did you choose to become an educator in the PT field?
EP: Because I love teaching and working with students.  I feel like I have a lot of knowledge to share and I think I am a good motivator, listener, and have patience.  For me it is exciting to see the "light bulb" go off when students finally comprehend a concept or technique.
SC: What advice do you have for PTA students?
EP: Work hard, prepare ahead of time, make no excuses, and don't forget to enjoy it.  Also, it's not about being successful on every exam and every assignment- it's how you recover from a failure that speaks to who you really are and what you are really about.  Remember that the grade is important, but it is not the most important.  I tell my students that if they understand why and what they are doing, the grade will come accordingly.   Some people study for the grade and don't really get the point.  That is equivalent to missing the forest for the trees.  It's about the forest.
SC: Why do you think someone should become a PTA?
EP: There are many reasons why someone should become a PTA, but there is really only one reason why anyone should really do this- because they have a passion for it.  It is not all glorious.  You see people in pain, or sometimes you encounter death.  In those moments, a love for what you do and for the care of people is what pulls you through.
SC: What is National PT month? How does it help promote PT?
EP:  National Physical Therapy Month (NPTM) is celebrated each October. APTA (American Physical Therapy Association) members are encouraged to use NPTM as an opportunity to reach out to consumers and educate them about the unique benefits of treatment by a physical therapist.