Volunteer with OC Parks at the Newport Bay Cleanup Day on 9/21/2013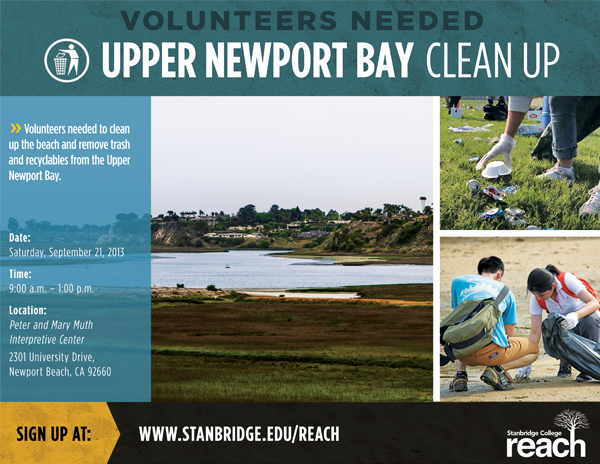 Stanbridge College REACH – Beyond the Classroom™ invites you to be a part of the annual California Coastal Cleanup Day with OC Parks at the Upper Newport Bay on September 21st, 2013.
Litter and garbage are not just unsightly and upsetting for us; they pose a huge threat to wildlife. In order to prevent endangerment of our local flora and fauna, the California Coastal commission organized the removal of almost 770,000 pounds of trash and recyclables from California's coastlines, bays, and wetlands in 2012. Join them this year to help keep your local Upper Newport Bay habitat beautiful.
Volunteers are needed to help OC Parks and California Coastal Commission clean up the Upper Newport Bay by removing trash from the park and trails! Every piece of trash picked up can save our wildlife and make our environment a healthier and more beautiful place for all of us.
No experience is necessary. Free recycled arts, crafts, and games will be happening during this event and food will be available for purchase. Don't forget to bring a refillable water bottle, as OC parks will provide water for volunteers.
Event Details:
Date: Saturday, September 21st, 2013
Time: 9:00 a.m. – 12:00 p.m.
Location: Peter and Mary Muth Interpretive Center – 2301 University Drive, Newport Beach, CA 92660
Registration: Click here to register or email reach@stanbridge.edu – Please note you will receive an email asking you to complete your registration with OC Parks.
California Coastal Cleanup Day is happening in over 50 coastal, inner-coastal, and watershed locations along the Orange County coast. If you would like to volunteer at another location, please email reach@stanbridge.edu for more information or visit: http://www.coastal.ca.gov/publiced/ccd/counties/orange.html
This is a great opportunity to help keep this beautiful part of Orange County thriving!