Stanbridge College Students Raise Over $1,300 for Oklahoma Tornado Victims and Orangewood Children's Foundation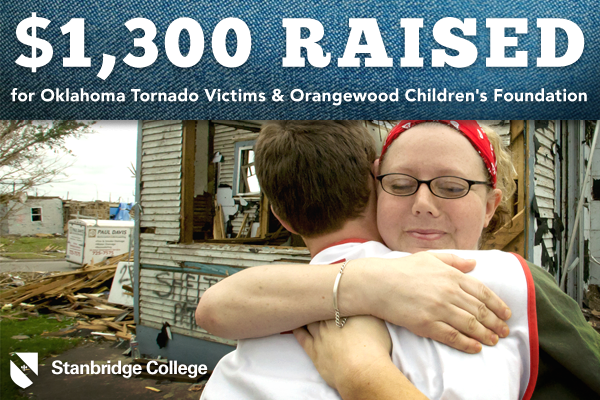 In June, Stanbridge College students, staff, and faculty raised over $1,300 to provide donations to national and local charities helping people in need. Part of the donation will be given to Operation HOPE, a non-profit organization assisting efforts to rebuild and restore the recent tornado-devastated areas in Oklahoma. On May 19th, 17 miles of Oklahoma City was devastated by a tornado, leaving 24 people and children dead and over 1,200 buildings and homes ruined. Through its disaster preparedness and recovery division, HOPE Coalition America (HCA), Operation HOPE is working to provide disaster relief and one-on-one financial recovery information and guidance to the victims of the tornadoes as they rebuild their lives.
Stanbridge College's quarterly fundraiser will also support the Orangewood Children's Foundation, helping Orange County children in the foster care system in the Independent Living Program (IPL). The ILP teaches foster youth life skills and celebrates their completion of their high school education. In June, 30 of these children graduated with high school diploma. Stanbridge College's donation will support and recognize several of the graduates for their educational achievement.
Stanbridge College REACH – Beyond the Classroom™ holds four major fundraisers throughout the year allowing its community of students, alumni, staff and faculty to support global and local causes. In the past, REACH has partnered with the Orange County Free Medical and Dental Clinic, St. Mary's Low Vision Center in Long Beach, Doctors Without Borders/Médecins Sans Frontières, and Convoy of Hope to bring medical and disaster relief to those in need.

Continue to REACH

Operation HOPE
Since its inception in 1992, Operation HOPE, a global nonprofit focused on financial dignity, has empowered more than 2 million individuals and directed more than $1.5 billion in private capital to America's low-wealth communities. To learn more about Operation HOPE, please visit www.operationhope.org.

Orangewood Children's Foundation
Orangewood Children's Foundation, a private, 501(c)3 nonprofit organization established in 1981. The mission is to provide life-changing programs and one-on-one support for abused and neglected children and at-risk families to end the cycle of child abuse. To learn more about Orangewood Children's Foundation, please visit www.orangewoodfoundation.org.
For more information on Stanbridge College REACH, please visit
www.stanbridge.edu/reach
and learn how you can get involved in your community!