Newport Beach Environmental Nature Center Needs Volunteers, Friday June 21st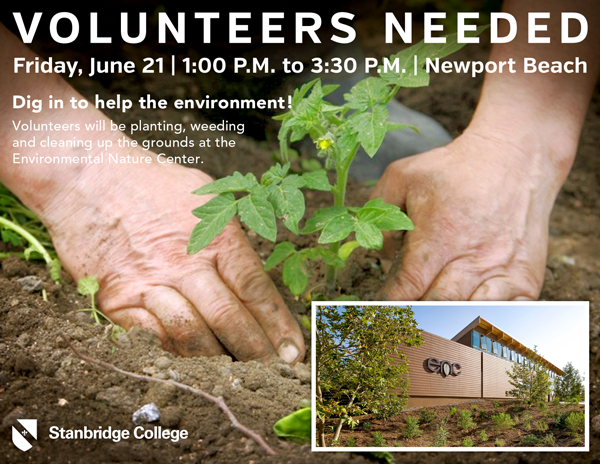 Stanbridge College REACH invites you to volunteer at the Newport Environmental Nature Center (ENC) on Friday, June 21st from 1:00 p.m. – 3:30 p.m. Dig into fun working with the Center's grounds keeping team to help weed, plant, maintain the trails, and pick-up litter. Sign up today to keep this 3.5 acre landscape, sanctuary, and classroom of Orange County's flora and fauna clean and healthy.
The ENC is a place where all ages can walk, pause to smell the scents, observe birds and butterflies, watch the seasons change, and discover nature first hand. For 40 years, the ENC has been shaped and caressed for learning, a retreat from life's pressures and a place of preservation and instruction. Serving over 18,000 students and thousands of visitors annually, the ENC is recognized as a leader in science and social science education providing opportunities for increasing our community's knowledge, understanding, and appreciation of the natural world.
Event Details:
Date: Friday, June 21, 2013
Time: 1:00 p.m. – 3:30 p.m.
Location: 1601 E. Sixteenth Street Newport Beach, CA 92663
Registration: Click here to sign up – all volunteers will be asked to fill out a volunteer form to bring with them to the activity.
Volunteers are asked to wear gardening clothes, closed toed shoes, a hat, and sunscreen. Please bring a refillable water bottle and try to leave all non-gardening items at home. All tools and supplies will be provided by the ENC.
This is another great opportunity for you give back to our local environment for all to enjoy and learn from. Join REACH today!