Volunteer at the OC Kidney Walk – Sunday June 2 with Stanbridge College REACH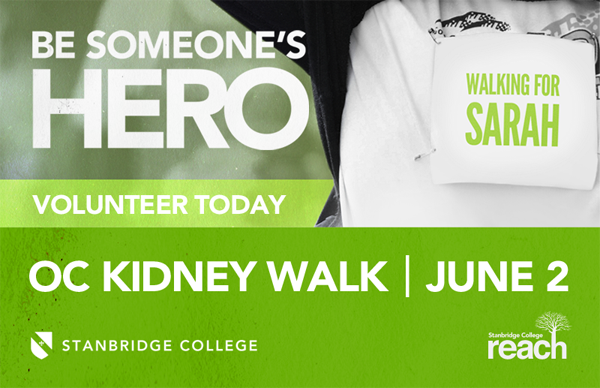 Stanbridge College REACH invites you to volunteer at the Orange County Kidney Walk on Sunday, June 2, 2013 at Aldrich Park in UCI.
With obesity on the rise, more and more Americans are dealing with diabetes and high blood pressure – two main causes of chronic kidney disease (CKD). There are over 26 million American adults who have CKD and millions of others who are at increased risk. Because symptoms may not appear until the kidneys are actually failing, millions of people with kidney damage remain unaware and are not taking steps to protect the health of their kidneys.
The OC Kidney Walk is raising funds to help the National Kidney Foundation call attention to the prevention of kidney disease and the need for organ donation.
Volunteers are needed to help with logistics of the walk including checking-in walkers, taking donations, setting up stations, route marshaling and clean up.
Event Details:

Date: Sunday, June 2, 2013
Time: 6:45am – 7:00 a.m. (Volunteer Check-In) Event: 8:00 a.m. – 12:00 p.m.
Location: Aldrich Park at University of California, Irvine
Register: Click here to register or email reach@stanbridge.edu. All volunteers will be sent an email with more details and instructions.
Walk with Team Stanbridge:
If you would like to raise money and walk with Team Stanbridge at this event, please email reach@stanbridge.edu. We will send you the contact information of the student representatives leading Team Stanbridge in the walk.
Every 5 minutes, someone is diagnosed with CKD. Join Stanbridge College REACH and the students and faculty of the Hemodialysis Program in helping make a difference in Orange County.