2013 Special Olympics Summer Games SoCal – Volunteers Needed June 8th – 9th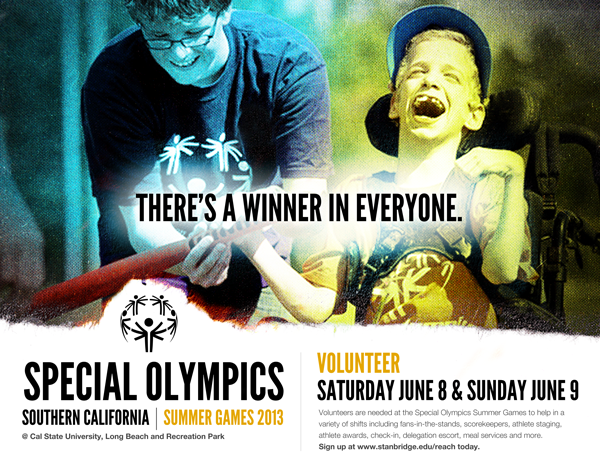 Stanbridge College REACH is continuing its support of the Special Olympics Southern California by gathering volunteers for the 2013 Summer Games June 8th – 9th  in Long Beach.
Over 1,100 athletes compete in the Summer Games in six different competitions including: athletics (track and field), aquatics, basketball, bocce, golf, and gymnastics. Hearing the roar of the crowd, receiving high fives, and knowing they have achieved a major accomplishment means everything to these athletes. Volunteer today and help provide much needed support!
Event Details:
Date: Saturday and/or Sunday, June 8 – 9, 2013
Time: Shifts available morning or afternoon. Times TBD upon registration.
Location: Cal State University, Long Beach and Recreation Park: 1250 N. Bellflower Blvd, Long Beach, CA 90815
Registration: Click here to register – you will be emailed more information to complete your registration
Volunteers are needed to help in a variety of shifts including: medical assistance, fans-in-the-stands, scorekeepers, athlete staging, athlete awards, check-in, delegation escort, meal services and more.
This event is free to the public, so please encourage your family and friends to participate either as volunteers or as audience members.
"I volunteered at Special Olympics in 2012, and it was amazing! The most memorable experience ever and I can't wait until next year!" – Sarah Clark, Nursing student
Join REACH in supporting this inspirational event and volunteer today.