Stanbridge Students Help Orange County Access Medical Services and Nutritional Foods
In March, Stanbridge College REACH community service initiative partnered with Lestonnac Free Clinic, Mariners Outreach and Lighthouse Ministries to sponsor the Orange County Free Medical and Dental Clinic in Costa Mesa. Over 300 uninsured, homeless and recently unemployed people and families received access to medical, dental, physical therapy and pharmaceutical services.
Stanbridge students and staff raised over $7,000 to help fund supplies and food for the event.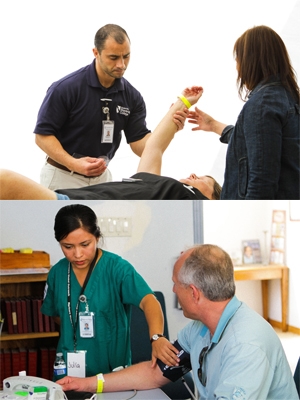 "Our collaboration with Stanbridge College was a great help to our operations at the clinic," stated Ed Gerber, the Executive Director of Lestonnac Free Clinic. "Their students were very knowledgeable and needed little instruction as they helped with patient triage and recorded patient medical histories. Because of their support, we were able to take in and help more patients with our services."
"Stanbridge College nursing and therapy students worked with us to help hundreds of people in need of medical services in Costa Mesa. Every one who came to receive help got it for free whether it was for their health or groceries," stated Bruce Caldwell, volunteer at Mariners Outreach.
At the clinic, Stanbridge College vocational nursing students assisted medical professionals, took vitals, and provided wound care while Physical Therapist Assistant (PTA) students and instructors provided physical and massage therapy to those in need.
"My experience at the OC Medical Clinic was unforgettable," said Rebecca Noel, PTA student. "I was able to use my PTA skills that I have learned in the class with the actual patients. I enjoyed it so much that I decided to stay all day. Seeing the patients happy and grateful made me very happy. I am so glad I volunteered. I would definitely do it again!"
Hoai Hoang, nursing student stated, "The clinic was very organized. I was stationed to take patient vital signs and document medical histories. I instantly recognized signs and symptoms of some of the patient's issues that we have studied in class. I would certainly volunteer again if I had the chance."
Julia Aguilar, nursing student said, "My experience at the clinic was pretty amazing. I know I have a smile on many faces. The feeling you get at the end of the day is like no other."
Students also worked with the Free Pantry Organization to hand out food and other groceries to the needy. Students sorted, bagged and distributed fresh fruits, vegetables and household items. In the afternoon, students and staff served lunch to over 400 homeless people. Every month, Stanbridge works with the Free Pantry Organization and Lighthouse Ministries to provide food and a warm meal with a healthy balance of vegetables, protein and fruits to over 250 homeless.
Stephanie Chang, founder of the Free Pantry Organization, stated, "We are beyond grateful for all the volunteers and all the helping hands to make this event happen. We could not have combined all three events in one day and accomplished this task without the help of Stanbridge Collage."
To learn more about the diploma and degree programs or community service initiative at Stanbridge College, please visit www.stanbridge.edu.