Give from your heart: February Blood Drive at Stanbridge College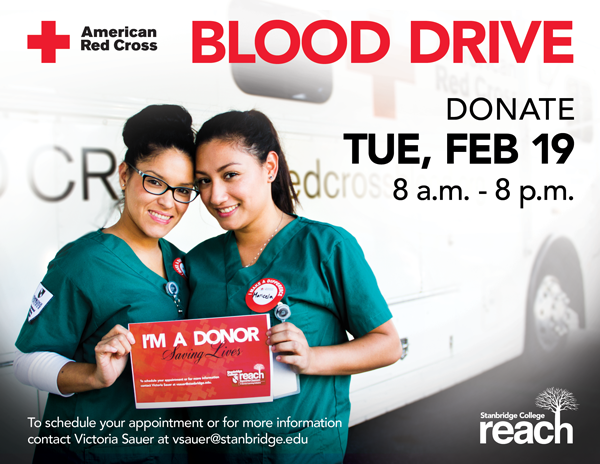 Stanbridge College REACH – Beyond the Classroom™ invites you to give from your heart and donate blood to save a life February 19, 2013 at the Red Cross Blood Drive on campus with extended hours from 8:00 a.m. to 8:00 p.m.
Donors of all blood types are needed, but eligible donors with blood type O negative, O positive, A negative or B negative are especially encouraged to give at this time.
Please help – schedule your blood donation appointment today.
Date: Tuesday, February 19, 2013
Time: 8:00 a.m. – 8:00 p.m. – Appointments are scheduled every 20 minutes.
Location: Stanbridge College 2041 Parking Lot – Red Cross Bloodmobile
Registration: Email Victoria Sauer at vsauer@stanbridge.edu with your name, cohort, email and requested time: (12:00pm, 12:20p, 12:40pm etc.)
Identification is required to donate. Please ensure you are eligible to donate blood before you make your appointment. To read about American Red Cross donor eligibility please visit: http://www.redcrossblood.org/donating-blood/eligibility-requirements.
Ineligible to Give Blood? – Administration Volunteers Needed!
Due to certain limitations, some people may be ineligible to donate blood. But you can still help! Volunteer to help the Red Cross with registration tasks on the day of this event. We need 4 volunteers for 3 hour shifts starting at 8:00 a.m. Please email vsauer@stanbridge.edu for more information and registration.