Over 65 Orange County Lives Given Second Chance from Stanbridge Blood Donors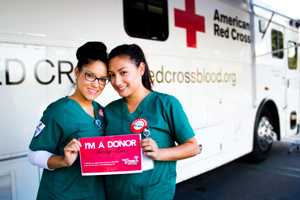 This December, Stanbridge College students, staff and faculty rolled up their sleeves and donated the greatest gift of all: blood. 25 blood donors donated 23 units of blood. According to the Red Cross, this was 121% of the goal they projected to the area hospitals. Each unit of blood goes to helping save one live. The donation will make a great difference this holiday season for up to 69 patients in need of blood transfusions.
Stanbridge College REACH would like to thank all of the donors and volunteers who helped with this event!
Continue to REACH
Stanbridge REACH hosts blood drives each quarter as part of its mission to give back to give back to the Orange County community. Our next blood drive is scheduled for February 19, 2013. Plan ahead and make sure to schedule your donation appointment!
To learn more about Stanbridge College student life and community service, please visit www.stanbridge.edu/reach.