12/5 Santa Clause Photo Booth at Stanbridge College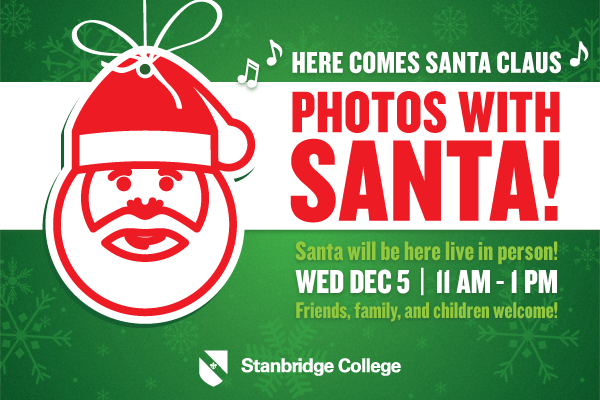 Santa Claus is coming to Stanbridge! Stanbridge College is hosting a Winter Photo Booth day featuring the real Santa! Invite your family and friends and take a FREE photo with Santa this Wednesday, December 5, 2012 from 11:00 a.m. to 1:00 p.m. in the Student Lounge.
You'll be able to choose a special background and message to make your photos ready to send along with your season's greetings and presents! All photos will be placed on the Stanbridge College Facebook wall for you to share and download.
Photo Booth with Santa Details:
Date: Wednesday, December 5, 2012
Time: 11:00 a.m. – 1:00 p.m.
Location: Stanbridge College Student Lounge
Tasty treats will be available.
From everyone at Stanbridge College, we wish you and your loved ones a very happy holiday season!