Fall into the Spirit of Giving: October Canned Food Drive Week 10/29-11/2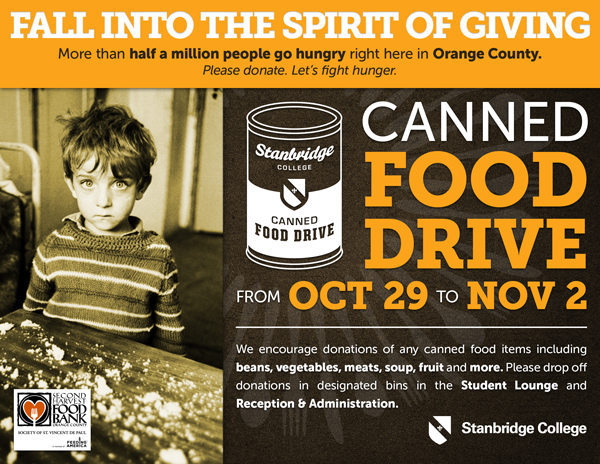 Stanbridge College REACH – Beyond the Classroom™ is hosting its Fall Canned Food Drive starting October 29th!
Hunger affects more people than you may think. Every day, hard-working adults, children and seniors who can't make ends meet are forced to go without food for several meals or even days. These people are our neighbors and they need our help. Join us as we support the Second Harvest Food Bank eliminate hunger for the helpless, needy and homeless.
Cohort Competitions – Win FREE Ice Cream Treats!
During this food drive, we encourage cohorts to compete to donate the most cans. The cohort who donates the most will receive FREE ice cream treats!
If your cohort would like to participate, please drop off cans to the Media and Communications Department before Friday, November 2nd.The cohort with the most donations will receive a free ice cream treat (one per person). Participation is optional, but we think a little healthy competition is always good to inspire service to our community.
Event Details:
If you are able to, we encourage donations of any canned food or non-perishable food items including beans, vegetables, meats, soup, fruit and more.
Date: October 29, 2012 – November 2, 2012
Location: Please drop off any donations in the bins located in the student lounge or Administration and Reception Suite 107.
More than half a million people go hungry in Orange County. Let's fight hunger together. Support our Orange County community in their time of need.