Stanbridge Gets Spooky! Halloween Photo BoOoth and Costume Contest!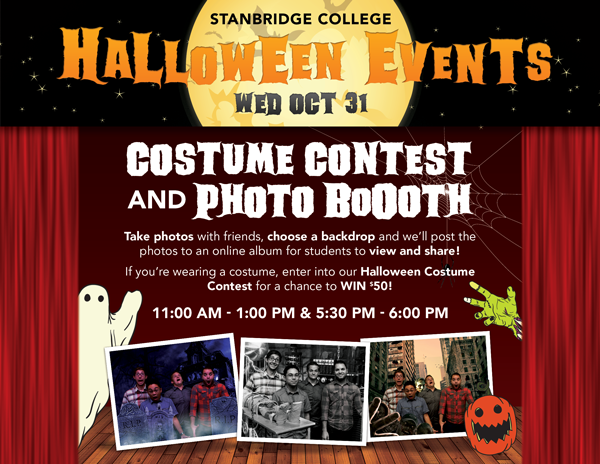 Calling all ghouls and ghosts! Stanbridge College is celebrating Halloween on Wednesday, October 31st with spooky fun events on campus!
Halloween Photo BoOoth!
Strike a pose with your friends at the Halloween Photo BoOoth! You'll be transported to a zombie infested city, haunted mansions, eerie cemeteries and other ghastly haunts. All photos will be posted to an online album for students to view and share.
Times: 11:00 a.m. – 1:00 p.m. and 5:30 p.m. – 6:00 p.m.
Location: Outside the Student Lounge
Halloween Costume Contest! – Win a $50 Gift Card
Come to school in costume and you may enter into our Halloween Costume Contest! Stanbridge College staff will take photos of individuals dressed up throughout the day. At the end of the day, all photos will be voted on and the person with the most votes will win a $50.00 American Express Gift Card!
OTA, PTA, Nursing and Dialysis students are only allowed to wear costumes in their theory classes. Please make sure that all Halloween costumes are appropriate for a school environment.
From all of us at Stanbridge College, have a happy and safe Halloween!