Keep Southern California Healthy! Help Break Flu Shot World Record with Davita Dialysis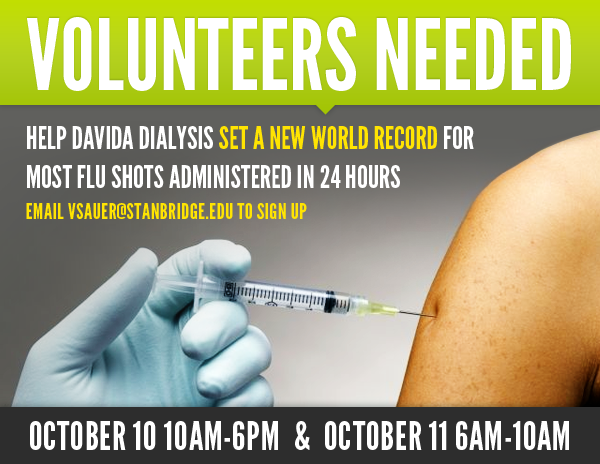 Stanbridge College encourages its Hemodialysis and Nursing students to take part in helping Davita Dialysis break the world record for the number of flu vaccinations in a 24 hour period. The event will be held next Wednesday and Thursday, October 10th and 11th in LA and Orange County.
Volunteers are needed to help as time keepers and witnesses for flu shot documentation during the event. This is a great opportunity to meet and work with medical professionals and administrators at Davita Dialysis!
Studies have shown that high vaccination rates relate directly to fewer hospitalizations, which can lead to a better quality of life for dialysis patients. To combat the spread of the seasonal flu virus DaVita provides flu vaccines for its patients and teammates.
"Chronic Kidney Disease patients are at a higher risk for complications due to the flu virus," explained Dr. Allen R. Nissenson, DaVita's chief medical officer. "This vaccine not only improves the quality of patients' lives – it saves lives."
Event Details:
Date: Wednesday & Thursday October 10-11, 2012
Time: Wednesday (10:00am – 6:00pm) Thursday (6:00am – 10:00am)
Location: Volunteers needed in Orange County (Costa Mesa, Lakewood, Fullerton) and Los Angeles County – A Mobile Van will travel to several city locations throughout the LA county, which will transport volunteers and medical staff as they provide and track the vaccinations.
REGISTER: To sign up, please contact Michelle Daleo at michelle.daleo@davita.com
Volunteers will be able to choose which date, time and shift they are able to support.
The cold and flu season is approaching. Let's help Southern California stay healthy!