Roll Up Your Sleeves and Donate! 9/18 Blood Drive at Stanbridge College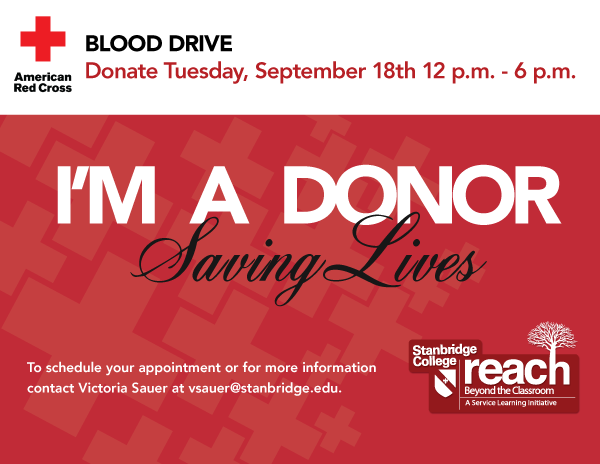 Stanbridge College invites you and your loved ones to the Fall 2012 American Red Cross Blood on September 18, 2012.
All summer the Red Cross has faced a critical need for blood donations, and the need is especially urgent as summer winds down and the Labor Day holiday approaches. Southern California's community blood supply remains in a fragile state and additional donations are needed to ensure an adequate supply is available through the end of the summer. Patients are counting on us.
Donors of all blood types are needed, but eligible donors with blood type O negative, O positive, A negative or B negative are especially encouraged to give at this time.
Please help – schedule your blood donation appointment today.
Blood Drive Details:
Date: Tuesday September 18, 2012
Time: 12:00 p.m. – 6:00 p.m. – Appointments are scheduled every 20 minutes.
Location: Stanbridge College 2041 Parking Lot – Red Cross Bloodmobile
Registration: Email Victoria Sauer at vsauer@stanbridge.edu with your name, email, phone and requested time. (12:00pm, 12:20p, 12:40pm etc.)
Identification is required to donate. Please ensure you are eligible to donate blood before you make your appointment. To read about American Red Cross donor eligibility please visit: http://www.redcrossblood.org/donating-blood/eligibility-requirements.
Ineligible to Give Blood? – Administration Volunteers Needed!
Due to certain limitations, some people may be ineligible to donate blood. But you can still help! Volunteer to help the Red Cross with registration tasks on the day of this event. We need 2 volunteers for two 3 hour shifts from 12:00pm – 3:00pm and 3:00pm to 6:00pm. Please email vsauer@stanbridge.edu for more information.