August 24th Volunteers Needed to Help Pack Backpacks for Children in Need!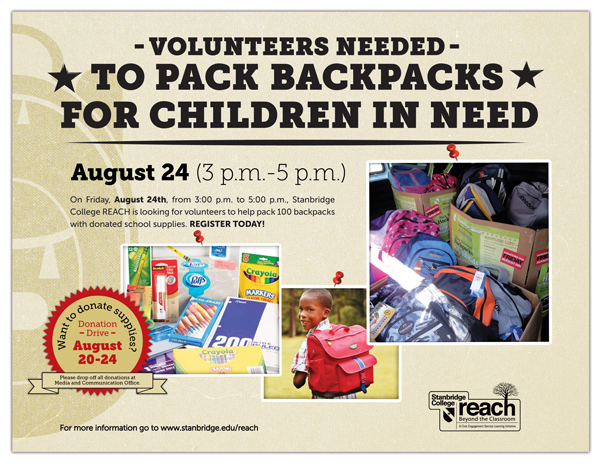 Stanbridge College REACH is hosting a Back to School Supplies Donation Drive starting August 20th and a Back Pack Packing Day on August 24th to help needy children in Orange County. While thousands of families prepare their kids to go back to school in August and September, many of them are struggling to pay for new school supplies. Other children may not even have the family support to buy a new backpack, crayons or paper. Join Stanbridge College REACH as we partner with Mariners Outreach and other deserving charities to ensure our community's children have the tools they need to succeed in school. Donations will also go to benefit the children of Stanbridge College students in need of extra help.

Volunteers Needed: Back Pack Packing Day
Stanbridge College REACH is looking for volunteers to help pack 100 backpacks with donated school supplies at the end of the Donation Drive on Friday August 24th from 3:00pm to 5:00pm. Many hands make light work, so we encourage you and your friends to join in on the fun.
REGISTER: Click here to register online or email reach@stanbridge.edu.
Back to School Supplies Donation Drive
Dates: August 20th – 24th
Location: Please drop off donations in the Media and Communications Room
If you are able to, we encourage donations of the following items. Any amount of these items is appreciated.
– Backpacks
– #2 pencils
– Glue sticks
– Erasers
– Colored markers
– Crayons
– Colored pencil
– 1.5" Binders
– Pocket folders
– Wide ruler paper
– Pencil sharpener
– Box of tissues
– Pencil box
– Scissors
– Pens
– Construction paper
– Water colors
These children need our help! Let's work together to provide for the future of our Orange County community.