Occupational Therapy Awareness Fundraisers 4/23-4/27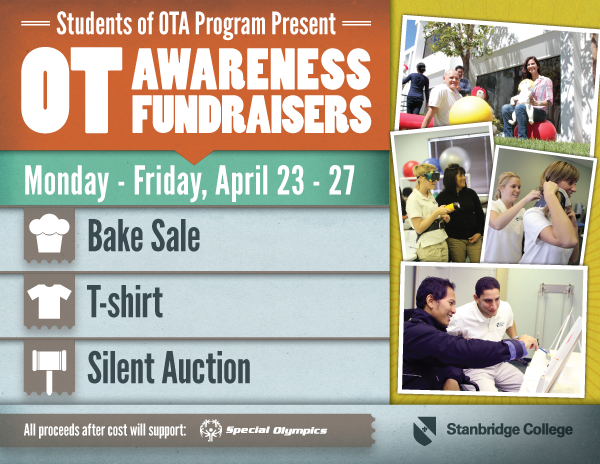 Occupational Therapy Assistant students of Stanbridge College are hosting three fundraisers for Occupational Therapy Awareness starting Monday April 23rd.
All proceeds from these fundraisers will go to support the Special Olympics Southern California – a nonprofit organization that uses sports training and competition to empower individuals with intellectual disabilities to become physically fit, productive and respected members of society. Children and adults with intellectual disabilities who participate in the Special Olympics develop improved physical fitness and motor skills, greater self-confidence and a more positive self-image.
Bake Sale
7:30 a.m. – 8:00 a.m. – OTA students will be selling muffins and bagels with cream cheese for a $1.00 donation in the student lounge Monday through Friday.
11:00 a.m. – 1:00 p.m. – OTA students will be selling cookies, cupcakes, brownies, rice crispy treats for a $1.00 donation and root beer floats for a $2.00 donation in the student lounge each day Monday through Friday.
Everyone who donates will receive their name on the OT Awareness Fundraiser Wall.
T-shirts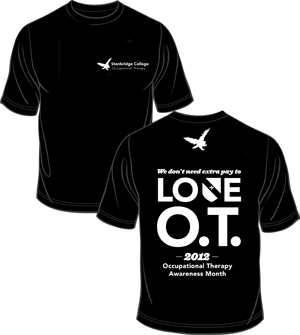 Purchase a custom made Stanbridge College Occupational Therapy t-shirt for a $20.00 donation! OTA students will be selling t-shirts each afternoon (11:00 a.m. – 1:00 p.m.) Monday through Friday. T-shirts come in Navy Blue or Charcoal Gray. All OTA students will be able to wear these t-shirts as part of their uniform through May 31st.
Silent Auction
Stanbridge OTA students will also be hosting a silent auction Monday through Friday. A variety of items from local vendors will be up for bid.
Continue to REACH for OT!
We encourage all of our students to participate in the OT Awareness Fundraisers activities and help promote Occupational Therapy to the public. Learn more about Occupational Therapy and how you can participate in OT month at http://www.aota.org/Practitioners/Awareness/OT-Month.aspx.