Starting 4/16 Canned Food Drive Week to Help Eliminate Hunger in OC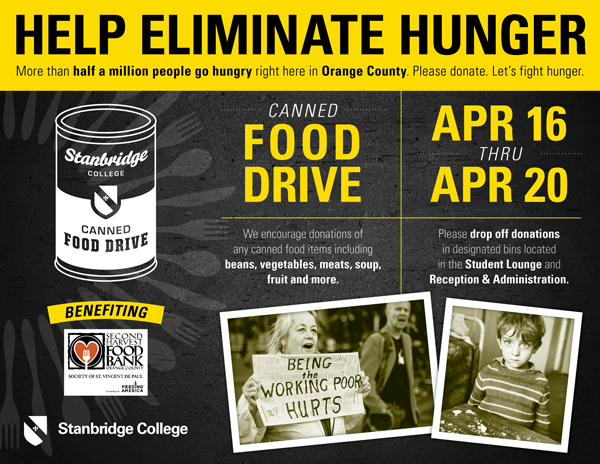 Stanbridge College REACH is excited to announce its first monthly Canned Food Drive starting April 16th! We are asking for donations of canned food items to donate to the Second Harvest Food Bank Orange County to support their mission to eliminate hunger in Orange County.
Who are we supporting?
Since its founding, the Second Harvest Food Bank OC has provided more than 272 million pounds of donated and surplus food to local charities. This non-profit works to provide food to nearly 240,000 people including children, single parents, homeless people, the working poor and temporarily unemployed people in Orange County every month.
The people who are in need are our fellow neighbors. To learn about who Second Harvest helps please read their Real Stories at http://feedoc.org/WhoWeHelp/RealStories.aspx. Learn how people from Newport Beach, Huntington Beach and other cities in OC are one step away from living on the streets and need our help the most.
What, When and Where Do I Donate?
If you are able to, we encourage donations of any canned food items including beans, vegetables, meats, soup, fruit and more.
Here are the event details:
Date: Monday – Friday, April 16th – April 20th
Location: Please drop off any donations in the bins located in the student lounge or Administration Suite 107.
More than half a million people go hungry in Orange County. Let's fight hunger together. Support our Orange County community and give back to those in need.