Stanbridge College Showers Military Babies with Love and Support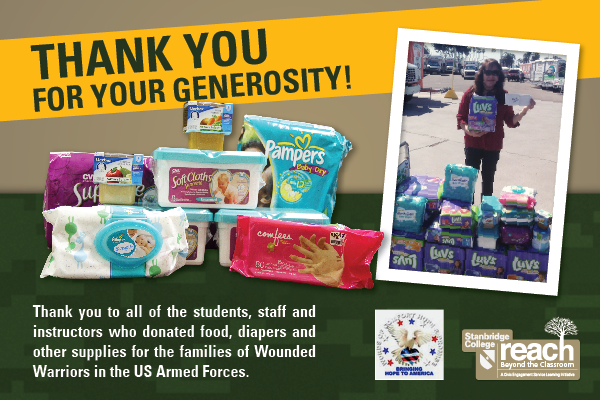 In February, Stanbridge College gathered supplies and food for the families of Wounded Warriors based out of Camp Pendleton in San Diego, CA. The college ran a two-week long donation drive and collected diapers, wipes, formula, food and pacifiers. At the end of the two weeks, Stanbridge delivered the donations to their REACH Community Service Partner Words of Comfort, Hope and Promise (WCHP) to help distribute the donations to the Wounded Warrior Readiness program.
"Thank you so much for collecting all the baby items for our Wounded Warrior babies! I delivered those items to the Wounded Warrior Family Readiness Officer was so excited to see all that Stanbridge collected."
–          Cynthia Martinez, President/Founder, Words of Comfort, Hope and Promise
The Baby Food and Diaper Donation Drive is part of the REACH – Beyond the Classroom Service Learning and Civic Engagement initiative at Stanbridge College. Last November, REACH worked with WCHP by donating snacks, socks and other items and packing over 100 care packages as Christmas presents for overseas Marines stationed in Afghanistan.
Continue to REACH:
Words of Comfort, Hope and Promise is a non-profit organization that serves those in the U.S. Armed Forces and their families. Learn more about WCHP and find out how you can help their cause at www.comforthopeandpromise.org
To learn more about Stanbridge College REACH and get involved in giving back to your community please visit www.stanbridge.edu/reach.