Presents for Paws: Stanbridge College Raises $1,000 for Homeless Animal Care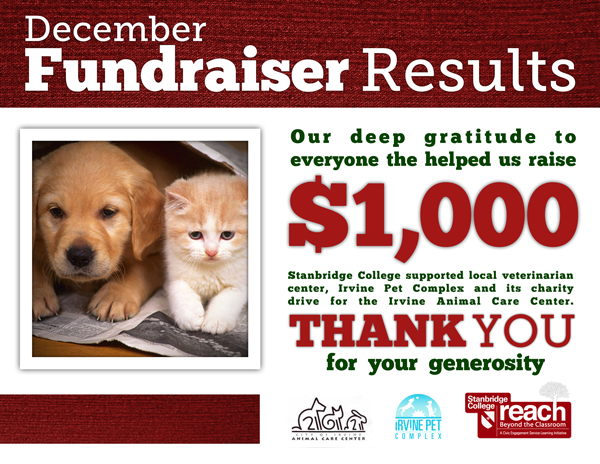 Stanbridge College students, staff and faculty raised $1,000 to support local veterinarian center, Irvine Pet Complex and its charity drive for the Irvine Animal Care Center. The funds helped purchase pet food, beds and shelter supplies for the Irvine Animal Care Center and its care for homeless pets.
"Irvine Pet Complex was proud to sponsor the Irvine Animal Care Center," stated Dr. Rob Harner, D.V.M. of the Irvine Pet Complex. "Thank you to Stanbridge College for their participation and generous donation."
Irvine Pet Complex is a team of doctors and professional veterinary staff who offer veterinary services to pets in Orange County. Last month, Irvine Pet Complex's supported the Irvine Animal Care Center in its mission to aid thousands of homeless, neglected and abused animals.
Each quarter, Stanbridge College runs a Favorite Charity contest encouraging its Vocational Nursing, Information Technology and Occupational Therapy Assistant students to nominate a charity and cause. The chosen charity is the beneficiary of a two-week long fundraiser. In the past, Stanbridge College has raised funds for Doctors Without Borders for the famine in Somalia, Convoy of Hope for the tornado disaster in Joplin and ShelterBox for the victims of the tsunami in Japan.
In the fall of 2011, Stanbridge College supported the Irvine Animal Care Center by hosting a weeklong Pet Food and Supplies Drive. The drive resulted in gathering over 150 lbs of donations including pet food, blankets, toys and supplies for the shelter.
These projects are a part of Stanbridge College's REACH Beyond the Classroom Serving Learning and Civic Engagement Initiative. REACH provides students the opportunity to volunteer and donate to local and global charities in need of support. REACH has helped a wide variety of non-profit organizations including Mariners Outreach, Veterans First OC, Rebuilding Together OC and the American Red Cross.
Continue to REACH
Learn more about the Irvine Pet Complex at www.irvinepetcomplex.com and the Irvine Animal Care Center at http://www.ci.irvine.ca.us/cityhall/cs/animalcare/default.asp.
To learn more about Stanbridge College REACH and register for upcoming community service events, visit www.stanbridge.edu/reach.