Support our Troops' Toddlers! Stanbridge College Baby Food & Diaper Drive for Wounded Warrior Families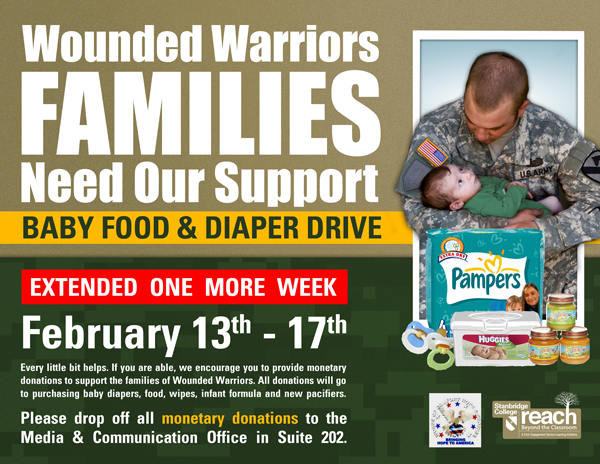 Stanbridge College is once again partnering with Words of Comfort, Hope and Promise to support our military and their families with the February Baby Food and Diaper Drive.
Since September 11, 2001, nearly 42,000 military men and women have been injured in combat. Their families and love ones remain by their side, sacrificing so much to ensure our soldiers are taken care of.  The week long donation drive will benefit the families of the Wounded Warriors to help them ease their burdens as they start off the New Year.
Starting February 6th we are encouraging everyone to gather and donate the following supplies:
Baby diapers (sizes 1,2,3,4)
Infant formula (newborn to 2 years)
Baby wipes
New Pacifiers
Baby food
Monetary donations
If you are able to donate, please drop off new and unused donations in the Stanbridge College student lounge.
Here are the event details:
Date: EXTENDED ONE WEEK – Monday – Friday, February 6th – February 17th
Location: Stanbridge College Student Lounge
Our military men and women have sacrificed their family time to serve our country. Let's work together to support our Wounded Warriors, their families, and children in need of extra care and love.