Be the Heartbeat of Those in Need: Stanbridge College March Blood Drive 3/26/12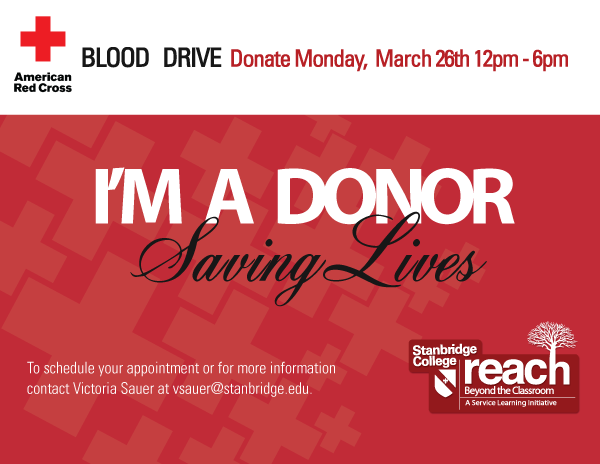 Stanbridge College is hosting its American Red Cross Blood Drive on Monday March 26th from 12:00pm to 6:00pm. The Red Cross Bloodmobile will be parked in the Stanbridge College parking lot outside of building 2041.
Date: Monday March 26, 2012*
Time: 12:00pm – 6:00pm
Location: Stanbridge College Parking Lot
Registration: Email Victoria Sauer at vsauer@stanbridge.edu with your name, email, phone and requested time. Appointments are scheduled every 20 minutes.
*This event has been rescheduled to March 26th. If you would like to keep, reschedule or cancel your current blood donation appointment, please confirm with Victoria Sauer at vsauer@stanbridge.edu.
Identification is required to donate. Please ensure you are eligible to donate blood before your appointment. To read about American Red Cross donor eligibility please visit: http://www.redcrossblood.org/donating-blood/eligibility-requirements.
Ineligible to Give Blood?
Due to certain limitations, some people may be ineligible to donate blood. But there is still work to be done! Volunteer to help the Red Cross with administration tasks on the day of this event. Two shifts are available for administration support: 12:00 pm – 3:00 pm and 3:00pm – 6:00 pm. Please email vsauer@stanbridge.edu to sign up.
FREE Coupons and Raffles for Donors
All participants of the blood drive will receive:
•    a FREE appetizer coupon from Mimi's Café,
•    two tickets to the LA Galaxy,
•    discounted tickets up to 50% off for the LA Kings
•    two FREE tickets to explore the GRAMMY Museum at L.A. Life
Participants may also enter a regional drawing for a $500 gift card SPA package.
The need is constant. The gratification is instant. Sign up today and let your heart beat for those in need.