Be the Change: Help Serve a Meal to the Homeless of Orange County 1/28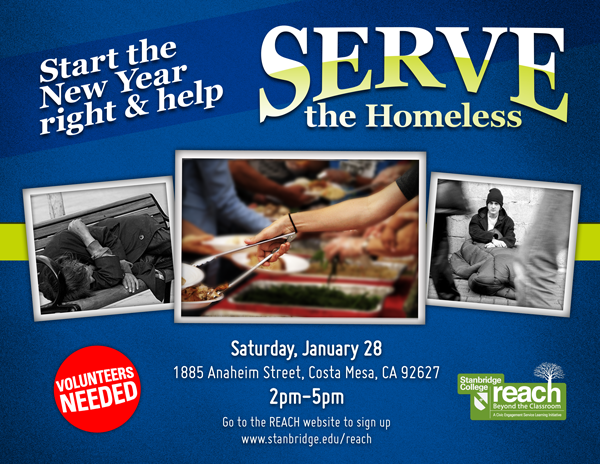 Stanbridge College is looking for leaders who will help our local community by preparing and serving a meal to the homeless at Lighthouse Ministries on Saturday, January 28, 2012.
Volunteers will be able to prepare food, set up the dining hall, serve meals and give a little bit of hope and care to someone in need. Volunteers will also assist in passing out donations of suitcases, duffel bags and other items gathered during the January Suitcase Drive.
Here are the event details:
Date: Saturday, January 28, 2012
Time: 2:00 PM – 5:00 PM (2-3 Volunteers are needed to arrive at 1:00 PM to help prepare food)
Location: Lighthouse Ministries: 1885 Anaheim St. Costa Mesa, CA 9262
Registration: Click here to register on REACH or email vsauer@stanbridge.edu
If you are able to, Stanbridge College encourages donations of the following items for the homeless to have during the meal and to use:
brownies, cookies or candy
sodas – these are such a treat for these men, women and children and they go so fast!
clothing items – especially socks, used back packs and toiletry items
blankets, plastic bags and cloth bags
It does not have to be a holiday in order to give back. Help us make a difference in our OC community all year round.