Volunteers Needed to Assist Mercy House Cold Weather Emergency Shelter for OC Homeless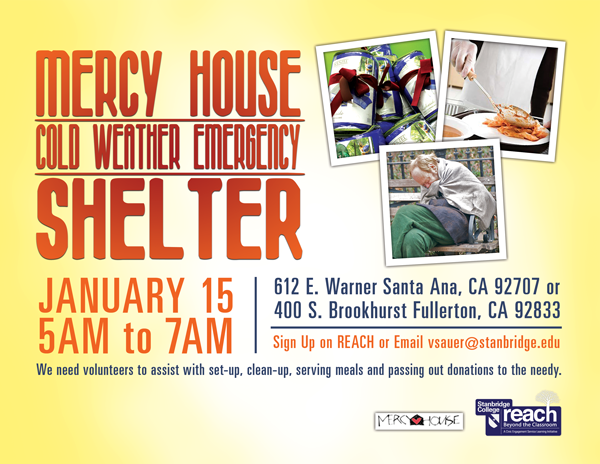 Every night, as temperatures drop, over 30,000 people in Orange County who do not have permanent housing try to find warmth, shelter and food. Stanbridge College wants to help these people. We are looking for volunteers to assist with Mercy House's Orange County Cold Weather Emergency Program. The program provides up to 400 beds per night for the homeless in Fullerton and Santa Ana.
On January 15th join Stanbridge College in Santa Ana and Fullerton to help Mercy House bring aid to hundreds of Orange County's homeless. Volunteers will be assisting with set-up, clean-up, serving meals and passing out donations to the needy.
Here are the event details:
Date: Sunday, January 15, 2012
Time: 5:00 AM – 7:00 AM
Location: 612 E. Warner Santa Ana, CA 92707 OR 400 S. Brookhurst Fullerton, CA 92833
Registration: Click here to sign up on REACH or email vsauer@stanbridge.edu. When you are registered, you can choose which location you would like to volunteer at.
Start the New Year off by supporting your fellow community members and resolving to be a stronger leader in your community.