Warm Fuzzies Inside and Out. Stanbridge College Works to Help the Homeless This Holiday Season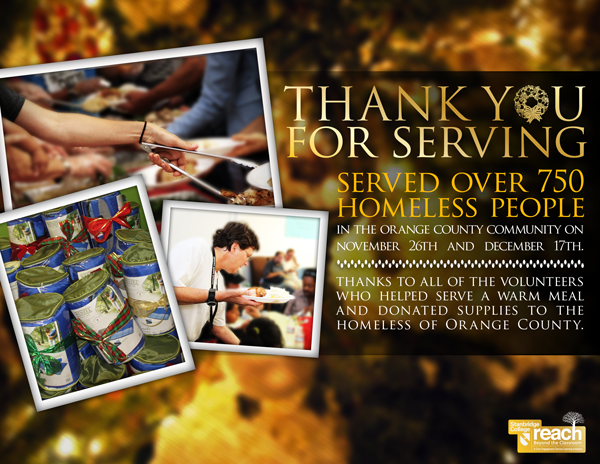 Stanbridge College partnered with Mariners Outreach to serve warm homemade meals to over 750 homeless people in the Orange County community on November 26th and December 17th. As temperatures drop below 40 degrees and Santa Ana winds blow, many homeless and low-income families turn to shelters like the Lighthouse Ministries in Costa Mesa for a warm meal. Stanbridge College along with Mariners Outreach donated, prepared and served meals of roasted chickens, green beans, salads, rolls, sodas and ice cream to the homeless. This December, Stanbridge College also donated over 100 sleeping bags to those looking for extra warmth to get them through the upcoming winter season.
According to Yasith Weerasuriya, President of Stanbridge College, "At this time of year, it is very important to reach out to those in need and help shelter them from the cold. Many of our students and staff are dedicated to helping us provide extra care for hundreds of homeless and low-income families. We are very pleased to be able to work with our volunteers and volunteers from Mariners Outreach and Lighthouse Ministries to support our fellow neighbors and community members."
Stanbridge College would like to thank all of the volunteers who helped serve a warm meal and those who donated supplies to the homeless of Orange County.
Continue to REACH
Stanbridge College provides monthly meals to the homeless at Lighthouse Ministries. Please visit the REACH Upcoming Events page to find more information and register for the next event in January.
Learn more about Mariners Outreach and their local community service at www.marinersoutreach.org.